Sophie
Wikisimpsons - The Simpsons Wiki
Sophie is the daughter of Krusty the Clown and Erin, a female soldier whom Krusty met during the Gulf War.
History
[
edit
]
Krusty met Sophie's mother Erin while he was performing with a USO tour during the Gulf War. They had a romantic night of passion, but in the morning she realized she had to complete her mission—to assassinate Saddam Hussein. Krusty told Erin not to go, insisting that she had a new mission, to "get down with the clown". However, she left anyway and Krusty ended up tackling her just as she was about to kill Saddam with a rocket launcher, protesting that she couldn't kill Saddam because he was half of Krusty's act. Now angry with Krusty for ruining her mission, Erin began hating Krusty. She also came to hate clowns in general, and filled her house with artwork depicting violence against clowns.
Sophie first met Krusty during an autograph session, where she revealed to him that she was his daughter. Krusty said he wanted to reunite with Sophie's mother, but she rejected him.
Sophie loves to play the violin and she played for Krusty. He loved her performance, but later lost her violin in a poker game, and recruited Homer to help him get it back.[1]
Sophie also likes to play soccer and was seen playing in a match where Homer was the referee.[2]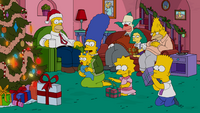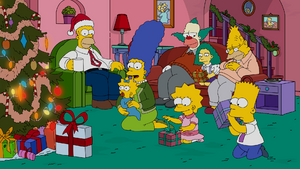 Sophie and Krusty were attending the Pagan Winter Carnival together, when Krusty was trampled by the Strandbeest. In the hospital, Krusty was surprised to find out that Sophie was Christian, not Jewish and she wanted to celebrate Christmas. Marge offered to let them come over for Christmas at their house, and they both accepted.
When Krusty and Sophie turned up at the Simpson house, Sophie was unhappy because Krusty was using the invitation to film a Christmas special, A Very Krusty Christmas Special. Sophie got increasingly annoyed at what her father was doing as she wanted him to be spending time with her, not spending time with her and her friends for TV. Eventually, Sophie told Krusty to leave.
Krusty tried to make it up to Sophie by becoming a Christian. He started attending church and became closer to Sophie, who was happy that he was trying to make her happy. Krusty even changed his show to make it more Christian and had Sophie as a guest on it, playing the French horn. Eventually, Krusty went to get baptized in the icy river but fell in and almost drowned. When he came out, he decided not to become Christian. Sophie, however, was happy that he put the effort into making her happy and reconciled with him.
Later, Krusty and Sophie were taking a sleigh pulled by the Strandbeest to a winter feast, whilst singing "Sleigh Ride".[3]
Non-canon
[
edit
]
| | |
| --- | --- |
| | The contents of this article or section are considered to be non-canon and therefore may not have actually happened or existed. |
In the future, Sophie got married to Jimbo. Lisa, Maggie, Sherri and Terri were her bridesmaids.[4]
The Simpsons: Tapped Out
[
edit
]
This section is transcluded from The Simpsons: Tapped Out characters/More Kids. To edit it, please edit the transcluded page.

Sophie Krustofsky
Image
Cost
Unlock method
Unlock message
Yearbook
110
Winter 2015, "22 for 30", Moe's Ark, Game of Games and Krusty's Last Gasp Online
Premium

30
FREE
Winter 2016
Platinum Mystery Present
80
This Thanksgiving's Gone to the Birds!, Thanksgiving 2018, All American Auction, Blargsgiving, Northward Bound and The Atom Smasher
Premium (Character Mystery Box)
40
Thanksgiving 2018, Simpsons Babies, All American Auction, Blargsgiving, Northward Bound and The Atom Smasher
Premium (Youngsters Mystery Box)
1
Clash of Creeds: Christmas Royale
Santa's Wonderland
1
Splash and Burn, Tragic Magic and Mirror Mayhem
Shattered Dreams Mystery Box (after event completion)
Permanent Tasks
Task
Time
Reward
Requires
Quest with the task
Animated?
Go Skating
10m
26, 7
Simpsons' Skating Rink
Set a High Score at Whack a Real Mole
10m
26, 7
Whack A Real Mole
Show Off Her Dubstepping Skills
30m
60, 15
Captain Blip's Zapateria or
Noise Land Video Arcade or
Wall E. Weasel's or
Brown House
Sneak an Ice Cream
30m
60, 15
Ice Cream Truck
Overload on Sugar
30m
60, 15
The Candy Shoppe
Practice Playing Violin
60m
105, 26
Go on a Field Trip
60m
105, 26
Cypress Creek Elementary
Catch a Movie
2h
175, 40
Big T Theatre
Ride the Carousel
2h
175, 40
Boardwalk Carousel
Get 5% Off Lunch
2h
175, 40
Krusty Burger
Hang Out With Dad
4h
435, 115
Krusty
Her Father's Googly Eyes Pt. 5
Hang Without Dad
4h
260, 70
Krusty Burger
Let Her Eyes Glaze Over
4h
260, 70
Springfield Mystery Spot
Learn by Fun
4h
260, 70
Childrarium
Put Coins on the Rails
4h
260, 70
Springfield Union Station
Get Fit and Educated
4h
260, 70
Springfield Gymdandee
Split a Fancy Mac and Cheese
4h
260, 70
Le Petite Appétit
Play With Interactive Exhibits
4h
260, 70
KidZone Elite
Go to School
6h
350, 90
Springfield Elementary
Her Father's Googly Eyes Pt. 1
Study Her Religious History
8h
420, 105
Krusty Burger
Attend Wizarding School
8h
420, 105
Magic Academy
Get Brainfreeze
8h
420, 105
Pinkbeardy Yogurt
Get Caught in Webs
8h
420, 105
Big Bug House
Tell Dad Jokes
12h
600, 150
Krusty Burger
Enjoy a Night at the Theater
12h
600, 150
Springfield Playhouse
Write to Her Mom
24h
1,000, 225
Springfield Library
Appearances
[
edit
]
References
[
edit
]