Pagan Winter Carnival
Wikisimpsons - The Simpsons Wiki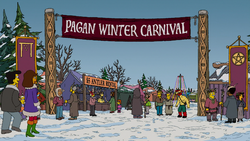 The Pagan Winter Carnival was a pagan-themed winter carnival held in Springfield.
History
[
edit
]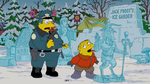 Several people from Springfield attended the carnival. Marge had her doubts about it but Bart and Lisa were enjoying themselves.
The main attraction of the carnival was a piece of art called the "Strandbeest". The Strandbeest by Theo Jansen was on display at the carnival and when the wind picked up, it started moving, but it was built for the polite breezes of Europe, so the heavy wind made it move faster and, as a result, it trampled Krusty, who was at the carnival with his daughter, Sophie.
Appearances
[
edit
]