The Simpsons: Tapped Out "22 for 30" episode tie-in content update
Wikisimpsons - The Simpsons Wiki
145
""22 for 30" episode tie-in"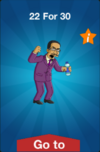 The Simpsons: Tapped Out "22 for 30" episode tie-in was released on March 8th, 2017 as a tie-in to the episode "22 for 30", and is the one hundred and forty-fifth content update. It unlocks upon reaching Level 8. The tie-in ended on March 15th. The kill date for the questlines was April 15th. It added a new building-character combo and 4 new decorations.
Characters
[
edit
]
| Image | Name | Unlock Message | Notes |
| --- | --- | --- | --- |
| | Anger Watkins | | Unlocks with ESBN Sports Desk. |
Returning
[
edit
]
Buildings
[
edit
]
Returning
[
edit
]
Decorations
[
edit
]
Returning
[
edit
]
Permanent Item's Rebate
[
edit
]
Item Origins
[
edit
]
Item
Episode
Anger Watkins
22 for 30, Dogtown, Heartbreak Hotel
Shauna, Mrs. Bouvier
Recurring
Patches and Poor Violet
Miracle on Evergreen Terrace, I'm Goin' to Praiseland, Simple Simpson, Friend with Benefit
Sophie Krustofsky
Insane Clown Poppy, Marge Gamer (non-speaking cameo), Judge Me Tender (indirectly mentioned),
Pranks and Greens (indirectly mentioned; off-screen), The Nightmare After Krustmas
Dead Lobster
E Pluribus Wiggum
Phineas Q. Butterfat's
Lisa's Pony, Radio Bart, Homer Alone, The Boy Who Knew Too Much, King-Size Homer,
The Homer They Fall, It's a Mad, Mad, Mad, Mad Marge, The Bart Wants What It Wants, Poppa's Got a Brand New Badge,
The Ziff Who Came to Dinner, You Kent Always Say What You Want, Beware My Cheating Bart, The Kid Is All Right, Haw-Haw Land
Sportacus
Bart Star, She of Little Faith (Logo seen in church)
Basketball Stadium
The Burns and the Bees
Swanky Fish
What Animated Women Want
Half-Pipe
Barting Over (similar), Barthood
Piggly's Super Smorg
Lady Bouvier's Lover
Outdoor Half-Court, 7200 Ounce Squishee, ESBN Sports Desk
22 for 30
Slide
Bart Gets Famous
Homerclese Statue
Selma's Choice
Tennis Machine, T-Ball Stand, Hot Squishee Station
The Simpsons: Tapped Out exclusive
Gameplay
[
edit
]
Conform-o-meter impact
[
edit
]
Name
Rating
Points
Slide, Hot Squishee Station
Vanity
10
Outdoor Half-Court
100
Half-Pipe
400
Phineas Q. Butterfat's, Sportacus, Basketball Stadium
Consumerism
10
Swanky Fish, Piggly's Super Smorg
Gluttony
T-Ball Stand
Vanity
Bonus $ and XP
180
0.5%
Tennis Machine
200
0.5%
7200 Ounce Squishee
200
0.6%
ESBN Sports Desk
200
3%
Soccer Net
500
0.5%
Homerclese Statue
1000
2%
Dead Lobster
Gluttony
Bonus $ and XP
20
2.5%
Other changes made
[
edit
]
March 8th Update ("4_25_22For30")
[
edit
]
Tourists' jobs Prepare for France, Prepare for Japan and Prepare for Brazil were changed to Staycate in France, Staycate in Japan and Staycate in Brazil.
A glitch not giving Norbert's Plane w/Norbert if Norbert Van Wowton Pt. 2 was started was fixed.
A new Channel 6 transmission was added, "Channel 6 Sports Week!".
A premium version of the Soccer Net was added.
Placing Homerclese Statue now yields 40 and now has 2% Bonus $ and XP.
Building the Dead Lobster now yields 70, gives 20 points in Gluttony and now has 2.5% Bonus $ and XP.
A new Daily Challenge was added (if the user unlocks the Outdoor Half-Court): Sink Shots at the Outdoor Half-Court [x3].
March 14th Update (4.25.6)
[
edit
]
Sources
[
edit
]
Overview at Tapped Out - Update Information