Jay Sherman
Wikisimpsons - The Simpsons Wiki
"No, Homer, I won't make fun of you. But I will suggest that there may be better things in life than seeing a man get hit in the groin with a football."
―Jay Sherman
Jay Sherman
Character Information
Jay Sherman is a film critic.
History
[
edit
]
When looking for a film critic to be on the jury for the Springfield Film Festival, the Simpson family watched Jay Sherman's show, Coming Attractions. On this episode of the show, Sherman interviewed Rainier Wolfcastle for his movie McBain: Let's Get Silly. During the interview, Sherman insulted Wolfcastle and his film, although Wolfcastle didn't realize it at the time. Marge then wrote a letter to Jay, asking him to judge the film festival. Jay was walking down the road in New York City reading the letter when Wolfcastle turned up, having realized that Jay had insulted him, and pulled out a gun. Jay told Wolfcastle that his shoes were untied before running away.
Upon arriving in Springfield, Jay was met by the Simpson family, who he stayed with during his visit. Homer got annoyed at Jay, as the family all liked him and he was better than Homer at many things he enjoyed, including belching and knowing the lyrics to the Oscar Mayer song. Marge also let him have the last pork chop at dinner, since he was the guest. At the end of dinner, Patty and Selma showed up, which horrified Jay. He then spoke with them, letting them know who in Hollywood was gay. After Homer told Jay to tell Patty and Selma that Angus MacGyver was gay, they hung him from the house by his underwear. That night, Homer was upset because he thought that everyone liked Jay more than him.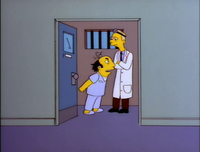 The film festival came along and Jay presented it, showing off all the films. When Barney's film, Pukahontas, came on, Jay told Marge that they had a winner. In the jury room, he and Marge voted for Pukahontas whilst Krusty the Clown and Mayor Quimby voted for Mr. Burns' film, A Burns for All Seasons, as they had been bribed by Burns. Homer decided to vote for Man Getting Hit by Football. When they jury took a break, Marge and Jay spoke to Homer, with Jay telling Homer that there may be better things in life than seeing a man get hit in the groin by a football. Homer then changed his vote to Pukahontas and Jay announced it as the winner, alongside the best animated short award, which went to The Itchy & Scratchy Show episode "Four Funerals and a Wedding". After the film festival, Jay went back to New York, telling the Simpsons that they could visit him on his show.[1]
At one point he had been admitted into the Calmwood Mental Hospital, and was a patient there.[2] He was also seen at Moe's Tavern on one occasion.[3]
Personality
[
edit
]
Jay is very similar to Homer in many ways, being a bit of a slob and having similar likes and humor to Homer. Marge and Lisa liked Jay as he came across as smart, sensitive and wasn't obsessed with his physical appearance. However, he also sees the good parts of films, beyond funny videos, unlike Homer. Jay also proved to be very likeable to the Simpson family, getting along with them with ease. Jay is also able to subtlety insult people, insulting Rainier Wolfcastle without him realizing. As a film critic, Jay knows a lot of Hollywood stars and can give anecdotes about many people.
Behind the Laughter
[
edit
]
Voiced by Jon Lovitz, Sherman was originally the main character on The Critic, which was created by Al Jean and Mike Reiss. His appearance in "A Star Is Burns" was a crossover to promote The Critic which made its FOX debut after the episode. The Critic was later cancelled.
Appearances
[
edit
]
References
[
edit
]