Space Mutants
Wikisimpsons - The Simpsons Wiki
<!–-INFOLINKS_ON-–>
Space Mutants Artwork of a Space Mutant from The Simpsons: Tapped Out
Character Information
| | |
| --- | --- |
| Status: | Fictional |
| Occupation: | Fictional Alien Monster |
| First Appearance: | "Scary Movie" |

The Space Mutants are the main characters of the series of films of the same name. They are extraterrestrial beings whose sole purpose is to feed on the Earth's populace.
Description
[
edit
]
Space Mutants are shape-shifting alien creatures. They are fictional characters in the "Space Mutant" movie series. They disguise themselves as humans to attack other humans. They appear to feed on a being's intimacy, as they are most often seen attacking before a couple make love. According to "Space Mutants IV: Down Under", they attack other beings, but do not eat them whole, as the girl in the movie questions "what happened to the dingo back there". It is possible that it was dingo mating season, but the mutant didn't care for taste. They seem eat humans entirely, as a pair of worried eyes peek through its mouth in some depictions.
Characteristics
[
edit
]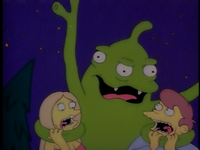 The Mutants are green-colored with three eyes and four tentacle-like arms. They have two fingers and one thumb on each hand. A small portion of the head sticks out, like a ponytail. They only have two teeth, showing that, like a duck, they may not chew their food, but rather swallow their prey whole. It may also be implied that they use their former prey's skin as a disguise. They do not have any feet, but more slither, or scoot, around like a slug. .
Non-canon
[
edit
]
| | |
| --- | --- |
| | The contents of this article or section are considered to be non-canon and therefore may not have actually happened or existed. |
The Simpsons: Tapped Out
[
edit
]
This section is transcluded from The Simpsons: Tapped Out characters/Treehouse of Horror XXV. To edit it, please edit the transcluded page.

Permanent Tasks
Task
Time
Reward
Requires
Quest with the task
Animated?
Sneak Into a Movie
60m
105, 26
Drive-In Theater
Hide in Simpson Basement
4h
260, 70
Simpson House
The Slime of Your Life Pt. 4
Eat From a Dumpster
8h
420, 105
Dumpster 1
or
Dumpster 2
The Slime of Your Life Pt. 2
The Slime of Your Life Pt. 7
Sign Autographs
12h
600, 150
Android's Dungeon
RAMPAGE!
24h
1,000, 225
The Slime of Your Life Pt. 6
Appearances
[
edit
]
This article or section is incomplete.


Please improve the article, or discuss the issue on the talk page.

References
[
edit
]
<!–-INFOLINKS_OFF-–>
---