UFO
Wikisimpsons - The Simpsons Wiki
This article is about the vehicle. For the magazine, see UFO (Much Apu About Nothing).
UFOs are disc-like advanced vehicles. They are used by the Space Mutants in the movie franchise of the same name, and also by the Rigellians.
History
[
edit
]
When Bart, Lisa and Maggie went to the movies to see a Space Mutants film, the aliens in the film traveled in UFOs.[1]
When Bart became trapped at the bottom of a well, the townspeople banded together to dig him out. A cutaway view of the excavation showed a flying saucer buried in the ground with the skeleton of a Rigellian alien inside it.[2]
When Lisa lent Bart her telescope, he first tried it out by looking around the sky and a flying saucer briefly appeared in his field of view. However, Bart quickly became bored with the sky and started looking at things on the ground instead.[3]
When the television show Rock Bottom listed a series of corrections on their show, one of the corrections they listed was the UFO was a paper plate.[4]
Bart is somewhat of a UFO buff. He bought the book Unidentified Flying Outrage! from Books! Books! And Additional Books!, intrigued by the book's premise that "[UFOs] are real, but there's a huge government conspiracy to cover it up". In an attempt to explain the adults' sudden behavior of rushing home and immediately going indoors, Bart and the neighborhood kids devleoped a theory (based on the ideas in the book) of "the saucer people" being involved in a vast conspiracy "to eliminate the meal of dinner". The true explanation, however, was that the men were drinking Simpson & Son Revitalizing Tonic and rushing home to be with their spouses/partners.[5]
Non-canon
[
edit
]
| | |
| --- | --- |
| | The contents of this article or section are considered to be non-canon and therefore may not have actually happened or existed. |
This article or section is incomplete.


Please improve the article, or discuss the issue on the talk page.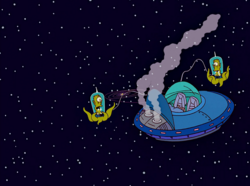 Kang
and
Kodos
(and/or other
Rigellians
) have been seen in their spaceships on numerous occasions:
The aliens abducted the Simpson family from their backyard, but soon after that returned them to Earth.[6]
Lisa inadvertently triggered an alien invasion (led by Kang and Kodos) by wishing for world peace on a cursed monkey paw. A later wish by Ned Flanders drove the aliens away.[7]
When Springfield was invaded by zombies, Kang and Kodos watched from aboard their ship in orbit and laughed at the invasion.[8]
While Homer made multiple jumps to different timelines, Kang and Kodos watched him from aboard their ship and laughed contemptuously at the trouble he was having ("Foolish Earthling! Totally unprepared for the effects of time travel!"). The joke ended up being on the aliens, however, as one of Homer's jumps transformed them into Sherman and Mister Peabody, respectively.[9]
It was seen during the attack of the giant mascots, however, it presumably crashed in the desert leaving Kang and Kodos stranded. [10]
Kang and Kodos abducted and released Homer, and later abducted Bill Clinton and Bob Dole. While the aliens impersonated Clinton and Dole (to win the 1996 Presidential election), Homer found the aliens' ship. He managed to launch it into Earth orbit, but then accidentally jettisoned Clinton's and Dole's bodies into space and crashed the ship into the White House. More aliens later landed, enslaving Earth and forcing the humans to build a giant ray gun to aim at another planet.[11]
After being signalled by Maggie's pacifier, the aliens landed in their ship to claim her, saying that Kang was her real father.[12]
Kang and Kodos literally crashed the Springfield Friars Club's roast of Homer Simpson, smashing their ship through the auditorium's ceiling.[13]
Aboard their ship, Kang and Kodos observed Dr. Hibbert's island from space and noted that it looked like the Rigellians' number 4.[14]
Kang and Kodos criticized the Simpsons for airing a Halloween special in November, while they already had their ship decorated for Christmas. They had a fireplace with stockings hung by it, and when they flew away, their ship was seen to be painted with a red-and-green color scheme so that it resembled a Christmas ornament.[15]
The ship was seen broken down and adrift in space, with Kang and Kodos floating next to it.[16]
When the Mayan gods trashed Springfield, one of them hurled Lard Lad's giant metal advertising donut into orbit, where it narrowly missed Kang and Kodos in their ship.[17]
The Rigellians disguised one of their ships as the Rocket to Your Doom ride at Diz-Nee-Land. When the Simpsons went into the ride and took their seats, the ship shed the disguise and took them to Rigel 7.[18]
When Kang and Kodos were children, their parental units gave them a "My First Saucer" to celebrate their 8th lunar cycle. Kang and Kodos eagerly went in their ship to Earth to abduct someone for the purposes of extracting information. They carefully selected a victim who was surrounded by wealth and appeared to be a leader, but their efforts ended up being for naught as they abducted young Monty Burns's teddy bear Bobo, who didn't tell them anything.[19]
Bart, disguised as Bartman, found a spaceship in the Flanders' garden. Inside, he was captured by Kang and Kodos and thrown in a cell with the Squeaky-voiced teen. He was able to escape by using a giant hamster wheel to break open the bars. He learned that the aliens had been planning to bring Itchy and Scratchy to life, which they had done successfully, but as a result had caused a nuclear explosion in Springfield, turning everyone except Bart into superhumans. With help from Radioactive Man, Bart was able to go back in time to stop the aliens from bringing the cartoon characters to life, causing them to leave Earth in their spaceship.[20][21]
Kang and Kodos abducted Sideshow Bob and held him captive aboard their ship. When they discovered that Bob was as evil as they were, the trio began working together. When Bart and Lisa discovered their plan, they used the ship's laser to write the graffito "Scotsmen fight like wee lassies" in the school's football field to goad Groundskeeper Willie into shooting at it.[22]
While Serak the Preparer was away, Kang and Kodos parked their ship on Earth and tried to prepare one of the recipes from his cookbook. When it didn't work out, Kang called Speedy Pizza and placed an order to be delivered, intending to eat the delivery boy.[23]
While their ship was parked on Earth, Kang and Kodos faced a dilemma: whether to use their last Earth quarter to feed the parking meter or to finish purchasing a human from a vending machine.[24]
In Grampa's story about the origin of Christmas lights, the custom began when two Rigellians who were stranded on Earth in 1947 created a signalling beacon on their disabled ship in an attempt to get another ship to come rescue them.[25]
Kodos brought Bart, Milhouse and Nelson on board as a meal for Kang, and Bart ended up putting Kang on an exercise program.[26]
In search of a solution to the constant puddles of drool on their ship, Kang and Kodos abducted Professor Frink.[27]
Kang and Kodos attempted to abduct the Spuckler family, but Cletus crashed their ship into the barn and later stole it and took it for a joyride into the sun.[28]
Video games
[
edit
]
In The Simpsons Wrestling, Kang and Kodos' UFO is an arena, where the two aliens are fought as bosses.
In The Simpsons Road Rage, a small UFO can be found in Area 51-A in the Downtown level. In the GameCube and Xbox versions of the game, Kang and Kodos are seen in their spaceship in the final cutscene, having just played Road Rage themselves and grown bored of it.
In The Simpsons: Hit & Run, Kang and Kodos' spaceship floats above the playground at Springfield Elementary in the final level. The spaceship abducts any vehicle that drives under its tractor beam, causing it to explode. Professor Frink, Homer, Snake and Abe Simpson drove their cars into the tractor beam with nuclear waste on board. The waste caused the ship to explode and crash, which also killed the aliens. In addition, a UFO can be seen when looking through the telescope in the observatory.
In The Simpsons Game, Kang and Kodos appeared in their spaceship after Bart and Lisa defeated the aliens and evil dolphins. They then proceeded to eat egg rolls that had been cooked in their ship's microwave. They were seen again in their ship after Homer defeated the Lard Lad Donuts statue which they had brought to life with a laser. Soon after, they used their ship's tractor beam to loot the mall. Bart and Homer boarded the ship and rescued Cletus, learning that the aliens were collaborating with Sideshow Bob. Eventually, a number of spaceships attacked the whole town.
Appearances
[
edit
]
This article or section is incomplete.


Please improve the article, or discuss the issue on the talk page.

References
[
edit
]