Lunchlady Dora
Wikisimpsons - The Simpsons Wiki
<!–-INFOLINKS_ON-–>
"Whatever..."
―Lunchlady Dora
Dora Freedman
Character Information
Dora Freedman (née Peterson), better known as Lunchlady Dora, previously known as Lunchlady Doris, is an overweight, middle-aged, and laconic cafeteria chef at Springfield Elementary.
Biography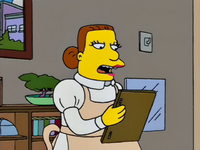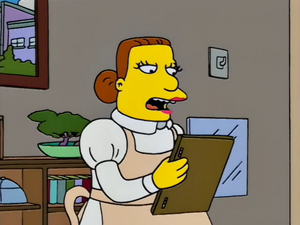 As the cafeteria chef at Springfield Elementary, she constantly prepares bad food, serving to students near-inedible foodstuff including whole beef hearts, horse testicles, and shredded newspaper. During school cutbacks, she using gym mats as a meat substitute, and other non-edible items.[1]
Due to the school's low funding, she also doubles as the school nurse. She was once seen as a mail carrier.[2]
She was once in a relationship with Hans Moleman, they later tried to patch things up[3] and were seen together at a cinema.[4] Dora slept with Groundskeeper Willie though this was so the latter could copy the key to the cafeteria supply store.,[5] Dora and Willie were later paired up by Professor Frink.[6] Once in the staff room she revealed that she was once suspected of murdering her husband 'Pete' but it was never proven as his body was never found, she then offered everybody 'Chicken Pete pie'.[7] In Homer's LEGO dream, she and Superintendent Chalmers were found making out when the closet they were in fell apart; it's unknown whether the two have actually been in a relationship.[8]
Her son is Jeremy Freedman.
Non-canon
| | |
| --- | --- |
| | The contents of this article or section are considered to be non-canon and therefore may not have actually happened or existed. |
The Simpsons: Tapped Out
This section is transcluded from The Simpsons: Tapped Out characters/School Workers. To edit it, please edit the transcluded page.

Behind the Laughter
Voice actress
After Grau's death in 1995, Lunchlady Dora was retired out of respect for over 10 years. Due to the delay between recording some episodes and the time they actually air, Grau's voice was included in episodes airing as late as 1997 such as "Lisa's Sax". Lunchlady Dora then became a silent background character and was mostly been seen in crowds and groups of other faculty members. In the 18th season, she returned as a speaking character beginning with "The Mook, the Chef, the Wife and Her Homer", where she is voiced by Tress MacNeille. When she returned, the character was renamed to Lunchlady Dora to respect Doris Grau's passing.
Foreign dubs
Appearances
This article or section is incomplete.


Please improve the article, or discuss the issue on the talk page.

References
<!–-INFOLINKS_OFF-–>
---