Moe's Tavern
Wikisimpsons - The Simpsons Wiki
Moe's Tavern
Location Information
Moe's Tavern, once known as Moe's Bar[1] is the local tavern in Springfield. The bar is named after its owner, Moe Szyslak. It is the only known tavern in Springfield (maybe because, like Krusty and Krusty Burger, Moe pays Fat Tony money to make sure there is no competition), though there is a Joe's Tavern in Shelbyville. Moe's Tavern is located right next to King Toot's.
Profile
[
edit
]
Interior
[
edit
]
The bar was described by Dr. Hibbert's daughter as smelling "like tinkle". The inside of the bar is dank and scant with red and green diamond windows. The bar serves Duff Beer, Henry K. Duff's Private Reserve, Tuborg; "The Beer Of Danish Kings", and Red Tick Beer, a beer flavored with dogs. It is also shown that they serve a drink to lose the memory, which Homer uses in order to forget that we was going to have a secret party.
The bar may actually be an illegal speakeasy, as the bar's liquor license expired in 1973, was valid only in Rhode Island and was signed by Moe himself (although Moe had intended to get it updated to the current year, the
correct state
, and real).
[2]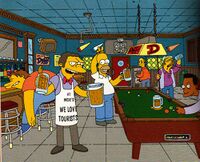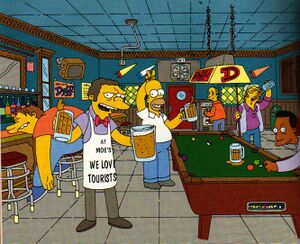 His bar features a few pool tables (to which Barney Gumble once "made sweet love" and then "befouled," in that order), a dartboard, the occasional rat, a love tester machine, a bull-riding machine, a racing washing machine and dryer sold to him by Herb Powell, a cigarette vending machine, and a jukebox. A jar of pickled eggs perpetually sits on the bar counter.
As female customers are so rare, Moe uses the women's restroom as an office. Moe claims that there "haven't been any ladies at Moe's since 1979"
Moe's back room has often been the site of numerous illegal operations. Among these are: smuggling Pandas,[3] Kidnapping Shamu,[4] and running a Deer Hunter-style Russian Roulette game.
It is also shown that there is a back room in the bar which is apparently Moe's bedroom. It's implied later in the same scene that Moe lives in the bar, saying "I bet if I didn't sell booze, they wouldn't even come here"
Moe's Tavern always closes on Wednesdays, as Moe performs charity work by reading to the homeless at the same refuge where Ned Flanders serves soup.[5]
Incarnations
[
edit
]
Moe's Tavern has been reinvented a few times over the years. During these times, at least, he had many more customers, including women:
Moe's Ice Cream Carnival
[
edit
]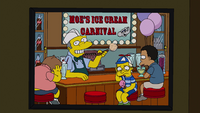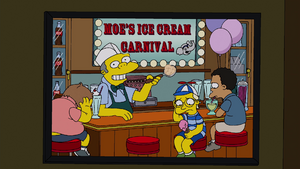 Moe said that when he first opened, the tavern was actually "Moe's Ice Cream Carnival", and still, no one was happy there.[6]
Meaux's Tavern
[
edit
]
When Homer thinks back to when Moe opened his tavern as an actual tavern, it was called Meaux's.
Flaming Moe's
[
edit
]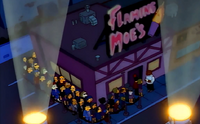 Flaming Moe's is the incarnation of Moe's after Moe stole Homer's idea for a drink. The bar was very popular. Celebrities, like Krusty the Clown and Aerosmith, went regularly to the bar. The bar went back to its old self after Homer revealed the secret ingredient, which was cough syrup.[7]
Uncle Moe's Family Feedbag
[
edit
]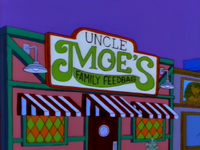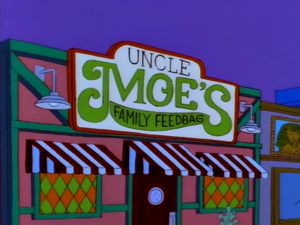 Uncle Moe's Family Feedbag is a family restaurant Moe renovated from his tavern. When the Hibberts are on a day out, they stop by Moe's Tavern to get something to eat. Their disappointment with the place together with Julius Hibbert's comment "I thought this was a family restaurant" drives Moe into changing the bar. The restaurant is popular at first with Moe giving away "Million Dollar" Birthday Fries and his guarantee that the food is free if he doesn't smile when the check comes. Marge's first comment to the newly decorated bar is: "An alligator wearing sunglasses? Now I've seen everything." Unfortunately, when Moe, out of irritation of the stresses of running a family restaurant, says bad words in front of the children, the customers leave. The Uncle Moe's Family Feedbag commercial's song is "Come to Uncle Moe's for family fun, it's good good good good, good good good!"[8]
Moe's Pet Shop
[
edit
]
Moe's Pet Shop was the incarnation the tavern became when alcohol was outlawed in Springfield. It looked like a normal tavern until Moe pulled a lever, changing it into a pet shop whenever the police came looking.[9]
M was another incarnation of Moe's. It was transformed into a bar for younger, more hipper people. Features included a big eyeball looking around, rabbits and an oxygen bar. The bar didn't serve Duff Beer, instead he served a Malaysian beer made entirely of soy sauce. In protest to this new type of bar, Homer created his own garage bar. Moe switched the bar back after he realized the customers were snobs.[10]
The Nag and Weasel
[
edit
]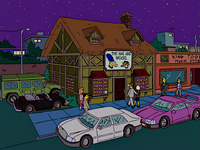 The Nag and Weasel was another incarnation of Moe's. When Homer took a mortgage on his house to save Moe's, Marge partnered up with Moe to revamp the bar as an English pub called The Nag and Weasel. The pub's sign indicated that Marge is the nag and Moe is the weasel.[11]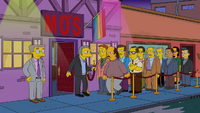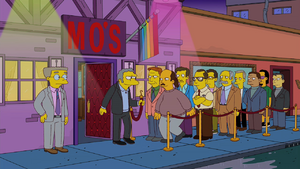 Mo's was another incarnation of Moe's. Mo's started when Waylon Smithers, Jr. wasn't allowed in The League of Extra-Horny Gentlemen and he went into Moe's and notices how slow business is. As Moe serves him a drink, Smithers laments that Springfield needs a bar for the average-looking gay man. Then an idea dawns on Smithers, and he proposes to Moe that they refurbish the bar and make it into a more accepting gay bar. Moe is first reluctant about the idea, because he doesn't feel like being around so many gays, but he soon realizes that with Smithers' plan he can make money. Moe thus decides to turn Moe's into an ultra-trendy gay bar, renaming it to change the name to "Mo's". Smithers revisits the sidewalk in front of The League of Extra-Horny Gentlemen and tells the gays who were denied entrance (among them Grady and Mr. Largo) that they will be welcome in Mo's. Grady and Largo come to Mo's and have a good time, and as word of Mo's spreads in the gay community, Mo's soon becomes a success amongst gays. Mo's went back to its regular self after Moe declared he wasn't gay.[12]
Drunken Donuts
[
edit
]
Drunken Donuts was another incarnation of Moe's. Homer and Barney were at Moe's and watchíng TV where Professor Frink demonstrated his new invention, time-travelling roller skates and got $1 million in the price of his invention. Moe, Homer and Barney decide to try to think of a similar idea. Moe gets one off of Homer, Barney and himself after Barney says Beer, Homer says D'oh and Moe says Nuts. Moe asks Homer and Barney: What is the one thing that every man wants when they wake up?, and both Homer and Barney say Marge. When asked again, they say beer-flavoured donuts. Moe then renamed his bar Drunken Donuts and sold beer-flavoured donuts.[13]
Regular customers
[
edit
]
It appears that Moe's tavern has only six regular patrons, Homer, Barney, Lenny, Carl, Sam and Larry. Moe pointed out that due to their frequent habit of drunk-driving, "91% of all traffic accidents in this city are caused by you six guys."[14] Many other customers used to go the bar, although most never spoke or were even recognized by the other patrons.
Barney's bar tab was so large that Moe had to send it to NASA to get it calculated. It totaled to $14 billion. Initially, it was believed to be $70 billion, but that was revealed to be the cost of the Voyager space craft.[15]
When the Flaming Homer became a success, Homer implied that there used to be other regulars that used Food Stamps before the government told Moe to stop accepting them.[7]
Other regulars
[
edit
]
Charlie, one of Homer's colleagues at the nuclear power plant, can be occasionally seen. Moe's is usually the place where Homer takes new found friends to hang out, such as Principal Skinner before his marriage. Ruth Powers is the only girl regular in the bar and is usually a background character. The two barflies usually seen are Sam and Larry. Sam always wears a cap and Larry has a balding head.
Other Patrons
[
edit
]
Jamie Farr[23] (An autographed photo with the Legend: 'To Moe, the Inspiration for Corporal Klinger...now where's my beer?')
The owner of King Toots
A man with glasses that are out of focus
Hugh Jass (a man who coincidentally has the same name that Bart uses for a prank call)
An unnamed person who has a cowlick and easily passes out
A gay man who was under the impression that Moe's Tavern was a gay bar
Joey Jo-Jo Junior Shabadoo [24] whose name Homer uses as an alias. When Moe insults the name, Shabadoo bursts into tears and runs out of the bar; Barney calls out sympathetically after him, "Hey! Joey Joe Joe!")
A potential patron was Guy Incognito, a man who looked like Homer and talked in a voice similar to his but had a mustache and wore a top hat and tails. Guy wanted to order a drink one time, but Moe thought it was Homer (Homer was temporarily banned from Moe's at the time) in disguise and kicked him out not realizing his error. Homer sees this man lying in the gutter out the front of Moe's and realizes he looks just like him but instead of investigating this further, Homer chases after a dog with a puffy tail.
An unknown character who thinks Homer's name is Bill.
Barney's dog Shaggy was seen joining the regulars. When Moe commented that he was sick of hearing "shaggy dog stories", Shaggy left in a huff.
Performances
[
edit
]
A small stage stands at one end and has been host to a few performances
Location, address and phone number
[
edit
]
Moe's Tavern is located on Walnut Street, next to King Toot's Music Store. Across the street is the Moeview Hotel and factory once owned by Bart Simpson.
The phone number varies from time to time. Mr. Burns once tried to call Smithers but did not know his phone number. He tried the buttons marked with the letters for Smithers (764-8437(7)) and called Moe's.[27] Bart is asked to call Homer by Principal Skinner, the number visible on the card is WORK: KLondike 5-6832 HOME: KLondike 5-6754 MOE'S TAVERN: KLondike 5-1239, Moe answers the phone and Bart asks for Homer Sexual.[28] However, in another occasion, Homer phones the bar at 355-1337.[29]
Non-canon
[
edit
]
| | |
| --- | --- |
| | The contents of this article or section are considered to be non-canon and therefore may not have actually happened or existed. |
The Simpsons: Tapped Out
[
edit
]
This section is transcluded from The Simpsons: Tapped Out buildings/Bars. To edit it, please edit the transcluded page.

Moe's Tavern
Image
Cost
Build time
Reward
Sell price
Conformity increase
Availability
Unique?
Dimensions -

D

x

W

7,500
3h
750
Moe (25)
Marge (25)
1,875
Gluttony +10
Level 15
Is There an Al Coholic Here Pt. 1
6 x 5



Behind the Laughter
[
edit
]
Moe's Tavern is based on a real bar called Moe's by Loyola Marymount in Playa Del Rey, CA on Culver Street. The owner of Moe's actually bears a striking resemblance to the Simpson's Moe.
A bar called Moe's Tavern can be seen opposite the bank in the film Dog Day Afternoon. Hank Azaria stated that Moe's voice was based on that of Al Pacino's character in the same film.
On the Middle East Broadcasting Center on the Arab version of the show, where The Simpsons is known as Al-Shamshoon, the characters drink soda at Moe's Tavern because alcoholic beer is forbidden in Islam.
A DVD featurette on The Complete Tenth Season features a clip collection of these prank calls from Seasons 1 through 7.
In The Simpsons Movie it is called Moe's Bar instead of Moe's Tavern.
Appearances
[
edit
]
References
[
edit
]