The Singing Sirloin
Wikisimpsons - The Simpsons Wiki
The Singing Sirloin
Location Information
The Singing Sirloin, the "Home of Ballads and Salads", is a restaurant in Downtown Springfield.
Description
[
edit
]
The Singing Sirloin's distinctive feature is its waiters, who sing to their customers and serve their steaks "rare, medium, or well-sung".[1] The restaurant also has a concealed portcullis-like barrier at the front door, which serves to both secure the restaurant during closed hours and prevent customers from leaving without paying. The lever which activates the portcullis is disguised as a "Please wait to be seated" sign.[2]
History
[
edit
]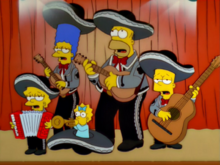 The
Simpson family
went to the restaurant for
Marge
's 34th birthday, although she was initially reluctant to go to a restaurant where the waiters sang.
[3]
The Simpsons also visited the restaurant to celebrate Bart's getting an A on an astronomy quiz at school. The waiters sang a song called "Happy First A" (to the tune of "Happy Birthday") for Bart. However, Homer's credit card was rejected. The Simpsons attempted to dine and dash, but were quickly trapped by the portcullis. In order to pay their bill, they ended up having to sing themselves, performing as a Mariachi band. The family first sang "La Bamba", and while the manager gave them high marks for their technical proficiency, he was not satisfied as their singing lacked passion. In repsonse to this criticism, Homer led the family in a rendition of "Spanish Eyes", starting the song with an impassioned vocal solo.[2]
Employees
[
edit
]
In addition to the kitchen help and the singing waitstaff, The Singing Sirloin employs a woman named Mary Kay whose job is similar to a Maitre d'.[2]
Non-canon
[
edit
]
| | |
| --- | --- |
| | The contents of this article or section are considered to be non-canon and therefore may not have actually happened or existed. |
The Simpsons: Tapped Out
[
edit
]
This section is transcluded from The Simpsons: Tapped Out buildings/Restaurants (non-premium). To edit it, please edit the transcluded page.

Singing Sirloin
Image
Cost
Build time
Reward
Sell price
Conformity increase
Availability
Unique?
Dimensions -

D

x

W

2,000
24h
100
Gluttony +10
Friend Points
Friendship Level 2
7 x 8
1
Springfield Enlightened
Banned by the Buddha Mystery Box
80
Food Wars
Premium
Task
Time
Reward
/h
/h
Cooking Well-Sung Steaks
4h
90, 10
22.5
2.5
Appearances
[
edit
]
References
[
edit
]