The Cabins at Honeymoon Mountain
Wikisimpsons - The Simpsons Wiki
The Cabins at Honeymoon Mountain
Location Information
The Cabins at Honeymoon Mountain was a resort for honeymooners, located on Honeymoon Mountain. The resort opened in 1943.
History
[
edit
]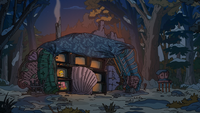 When Homer and Marge got lost in the wilderness on Honeymoon Mountain, Marge spotted a shiny red object. When they found the object, they realized that it was a bathtub shaped like a love heart. They then discovered that they were in the remains of The Cabins at Honeymoon Mountain, a resort for newlyweds. Since they were cold and lost, they decided to create a makeshift shelter from the remains of the cabins.
For a while, Homer and Marge settled into their new lives in their makeshift shelter. However, one night, a wolverine decided to attack them. The couple managed to kill the wolverine together and went back to living in the wilderness in peace. Soon after, Homer saw a park ranger. However, he hesitated to call out, due to enjoying their new life together, and the park ranger took off again on a snowmobile. Homer told Marge that he saw the ranger, but hesitated, and Homer and Marge decided to follow the tracks back to the ranger station, leaving The Cabins behind.
Products that the resort offered included Love Oil and Precious Memories Love Jelly.
Non-canon
[
edit
]
| | |
| --- | --- |
| | The contents of this article or section are considered to be non-canon and therefore may not have actually happened or existed. |
The Simpsons: Tapped Out
[
edit
]
This section is transcluded from The Simpsons: Tapped Out buildings/Hotels. To edit it, please edit the transcluded page.

The Cabins at Honeymoon Mountain
Image
Cost
Build time
Reward
Sell price
Conformity increase
Availability
Unique?
Dimensions -

D

x

W

FREE
6s
N/A
Indolence +10
Season 33 Prize Track
Season 33 Pt. 3
13 x 13
Task
Time
Reward
/h
/h
Stacking More TVs for Privacy
8h
150, 13
18.75
1.625
Appearances
[
edit
]