Springfield's state
Wikisimpsons - The Simpsons Wiki
Springfield's state
State Information
Springfield's state is a US state.
Description
[
edit
]
It is best known for containing Springfield. It is not known where it is, due to a mixture of geographical features and various comments by inhabitants. The state was founded by circus freaks.[1]
The state has many counties. Springfield County is where the city of Springfield is located. There is also Swartzwelder County which borders Springfield[2] and the rural Spittle County, which claims to be the birthplace of the loogie.[3] Other cities in the state include: Cypress Creek, founded by the Globex Corporation;[4] Ogdenville, famous for its outlet malls and monorail; Little Pwagmattasquarmsettport, known as America's scrod basket;[5] and Capital City, the largest city and the state capital. Catfish Lake is known for its fishing and marriage retreats.[6] There is also the unpopular community of Stenchburg,[7] as well as towns such as Terror Lake, Cape Fear, New Horrorfield, Screamville, Frigid Falls, Mount Seldom and Lake Flaccid.[8]
Economy
[
edit
]
The state is made up of mainly agricultural land, with occasional large cities such as Capital City and medium-sized towns such as Springfield and Shelbyville. The farms mainly grow corn, livestock, dairy, fruit, cotton, tobacco, and tomacco, while within the cities, the main industries are brewing by the Duff and Fudd beer corporations, coal mining, casinos, manufacture of boxes, pillows, food, copper, iron, steel, industrial equipment, dangerous chemicals and retail. This balance means that most of the state's working population is blue-collar.
Despite this, several wealthy citizens exist, most famously Charles Montgomery Burns (a utilities magnate), Aristotle Amadopolis (another utilities magnate), Hank Scorpio (a crime lord who seized the Eastern Seaboard) and (until his imprisonment) Artie Ziff (an entrepreneur).
Two cities in the state are known to have international airports: Springfield and Capital City. Springfield also has a nuclear power plant, a naval base, an army base and an air force base.
The state includes both areas of high wealth (Old Springfield, the center of Capital City), and slum areas (i.e. Capital City outskirts and New Springfield). Because of this, the state becomes very polarized, with constant feuds between upper and lower class citizens over issues as petty as telephone area codes.[9]
The state also contains at least 2000 McDonald's restaurants, according to Lou.[10]
Geography
[
edit
]
The state is heavily polluted due to years of environmental neglect by the government and nuclear power industry. Radioactive waste is to be found in most bodies of water as well as the occasional mutated three-eyed fish (affectionately known as Blinky). Despite this, the state has a wide array of wildlife, including grizzly bears, snakes, bald eagles, and manatees.
The state has a variety of geographical features, such as gorges, forests, mountains, rivers, beaches, deserts, lakes, wetlands and a glacier; as well as a diverse array of weather patterns, such as hurricanes, heatwaves, and blizzards. Snow is common in the state in the winter.
Springfield is a northern state that fought with the Union during the Civil War.[11]
Politics
[
edit
]
Mary Bailey is the current Governor of Springfield's State. Mr. Burns once ran for Governor, but lost out to Bailey.[12] Because Burns ran as a Republican, Bailey is most likely a Democrat if not an Independent. A former Governor was Chester L. Suicide, who has a bridge named in his honor.[13]
The current mayor of Springfield is Democrat "Diamond" Joe Quimby. He often takes bribes and is a known womanizer. Previous Mayors include attempted murderer Robert Terwilliger[14] and Hans Moleman, as well as Lindsey Nagle, Dr. Julius Hibbert, Comic Book Guy, Professor Frink, Seymour Skinner, and Lisa Simpson, as a council of Learned Citizens.
Education
[
edit
]
The state follows a standard education system, with elementary schools, junior high schools and high schools. However, the state has a very low education budget; schools can only afford to buy books other schools have banned, they are forced to cancel all artistic and physical education, and must rent out classrooms as prison cells to make ends meet. The most extreme example of this is Springfield Elementary School, which was moved from Missouri brick by brick after reaching bottom of the state league table.[15] The state is also home to Springfield University, Springfield A&M (which was founded by a cow), and the unfortunately-acronymed Springfield Heights Institute of Technology.
Transport
[
edit
]
The state has a comprehensive Interstate Highway system, linking to Oregon, Michigan, New Jersey, Texas and "some other state." Interstate 95 was depicted in one of the episodes. The area also has a good rail network, with both passenger and freight services. The area's several international airports also provide a strong transport link with destinations in the state, other US states, and the world.
Another, less orthodox system was the monorail system installed by the (possibly late) conman Lyle Lanley, who also sold faulty monorails to Brockway, Ogdenville and North Haverbrook. It has since been closed for safety reasons.[16]
What state is Springfield in?
[
edit
]
The uncertain location of Springfield is a running gag in the series, based on the fact that 34 states in the United States have at least one community with that name; and several have more than one. Episodes frequently make fun of the fact that Springfield's state has never been revealed, by adding further conflicting descriptions, obscuring onscreen map representations, and interrupting conversational references.
It is most likely that Springfield is in a fictional state with an exact location in the United States which will vary from episode to episode. A good example of this is when Flanders says that the four states that border Springfield's state are Ohio, Nevada, Maine, and Kentucky, which is impossible.[17]
Geography of Springfield and its location
[
edit
]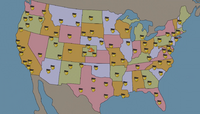 There are many geographical features of Springfield that means many parts of the USA could not hold the city.
Springfield's State has to border the ocean or sea, meaning landlocked states could not house Springfield. This means that Arizona, Arkansas, Colorado, Idaho, Iowa, Kansas, Kentucky, Missouri, Montana, Nebraska, Nevada, New Mexico, North Dakota, Oklahoma, South Dakota, Tennessee, Utah, Vermont, West Virginia and Wyoming are all not possible. Although not landlocked, Illinois, Indiana, Michigan, Minnesota, Ohio, Pennsylvania, and Wisconsin only border lakes, and so are also not possible. Springfield has also been made clear to be in a state and not a district, so the District of Columbia is not possible.
We also know that West Springfield is three times the size of Texas,[18] which itself is the second biggest state. Alaska, the biggest, wouldn't be able to hold West Springfield, let alone the rest of Springfield and the rest of the state. This further proves that Springfield is in a fictional state set in the United States of America. However, the phrase "three times the size of Texas" could also refer to several real-world towns named "Texas" in a variety of states (e.g. Texas, New Jersey; etc.).
Plan B?
[
edit
]
A "Plan B" exists that has the entire city move across the country. It is possible that Springfield's state has been in a constant state of flux over the years considering the amount of pollution it theoretically creates and diversity of animal life shown.[19] This is also supported when Lisa states that she is surprised that they allowed the Monty Burns Casino to come along when they moved the city.[20]
Dialects and accents
[
edit
]
Regional dialects and accents are often used to help place people's origins. The citizens of Springfield have a range of accents, though many originate from elsewhere (such as the Scottish Groundskeeper Willie or Indian Apu Nahasapeemapetilon). Apart from the General American accent spoken by most children and many adults (for example, as spoken by Homer Simpson), a notable segment of the middle-aged generation of Springfield natives has an accent variety typical of the greater New York metropolitan area. Marge Simpson and Barney Gumble both exhibit rhotic New York accents, while Carl Carlson and Lenny Leonard, as well as Moe Szyslak, who is not a Springfield native, but who did move to Springfield as a young child, all have non-rhotic (i.e. more "fully-fledged" r-dropping) New York accents.
However, there are a variety of other accents also spoken by presumed natives of the town. The town's mayor, Joe Quimby, oddly has an accent reminiscent of John F. Kennedy, which is itself a cultivated, non-natural accent that has some similarities to the local Boston accent. There are also some noticeable Springfielders with other accents, such as the Southern accent lightly displayed by Ned Flanders and strongly exhibited by the local Spuckler clan.
One possibility to explain the diversity of accents in the relatively small city is that different socioeconomic groups in the town have different accents or that the town is a melting pots of various dialects, perhaps because it is located midway between a variety of distinct dialect regions.
Springfield based on Springfield, Oregon
[
edit
]
In an interview with creator Matt Groening in 2012, Groening revealed that Springfield was named after Springfield, Oregon, a real-life town in the west-central part of the state east of Eugene. Groening is himself an Oregonian as he was born in Portland. However, the state itself doesn't seem to be Oregon and there seems to be many differences between Oregon and Springfield's state.[21] The statement was misinterpreted by many and Springfield's state is not Oregon, it is just based on Oregon.[22]
See also
[
edit
]
References
[
edit
]
External links
[
edit
]