Lovejoy house
Wikisimpsons - The Simpsons Wiki
Lovejoy house
Location Information

The Lovejoy house is where the Lovejoy family live. Reverend Lovejoy has lived there since the 1970s.[1]
History
[
edit
]
The front door was rammed down by the Springfield cops when they were hunting down a criminal for the reality series COPS: In Springfield. When Reverend Lovejoy demanded to know what was going on, the cops realized they were at the wrong house, and the criminal they were after was actually next door.[2]
Bart was invited to dinner at the house by Jessica Lovejoy, but during the meal, Reverend Lovejoy threw him out for using the word "butt".[3]
Non-canon
[
edit
]
| | |
| --- | --- |
| | The contents of this article or section are considered to be non-canon and therefore may not have actually happened or existed. |
The Simpsons: Road Rage
[
edit
]
In The Simpsons: Road Rage, the house is located in a residential area in the Evergreen Terrace level.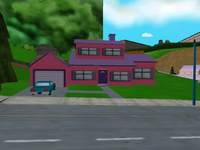 The Simpsons: Tapped Out
[
edit
]
This section is transcluded from The Simpsons: Tapped Out buildings/Homes. To edit it, please edit the transcluded page.

Lovejoy Residence
Image
Cost
Build time
Reward
Sell price
Conformity increase
Availability
Unique?
Dimensions -

D

x

W

Yearbook
180
6s
180
Jessica Lovejoy (25)
Indolence +10
Level 50
Premium
5 x 10

30
40
Thanksgiving 2018, Simpsons Babies, All American Auction and Blargsgiving
Premium (Youngsters Mystery Box)
1
Thanksgiving 2018, All American Auction and Blargsgiving
Gold Mystery Box
50
Flanders Family Reunion
Premium (Yard Sale Mystery Box)
Task
Time
Reward
/h
/h
Polishing Model Trains
6h
175, 18
29.17
3
Behind the Laughter
[
edit
]
The house address was at one stage revealed to be 744 Evergreen Terrace, next door to where Snake was staying at 742 Evergreen Terrace.[2] However, it has since been established that the Simpson family live at 742 Evergreen Terrace, therefore the Flanders family live at 744 and the address of the Lovejoys is unknown.
Appearances
[
edit
]
References
[
edit
]