Phineas Q. Butterfat's Ice Cream Parlor
Wikisimpsons - The Simpsons Wiki
Phineas Q. Butterfat's Ice Cream Parlor
Location Information

Phineas Q. Butterfat's 5600 Flavors Ice Cream Parlor[1] or Phineas Q. Butterfat's Ice Cream Parlor[2] is an ice cream parlor in Springfield. There is also a parlor in the Food Court section in the Springfield Mall.[3]
History
[
edit
]
Bart once handed in a coupon for a free ice-cream on his birthday, and received a small ice-cream in a bowl, as well as an order by an employee to eat it and get out.[4]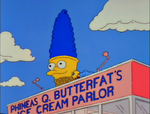 When Homer was home alone watching Maggie, she escaped from her bedroom and went off looking for Marge. She somehow made her way onto the top of the parlor, and was sleeping beside the artificial ice-cream cone, which had hair like Marge's.[5]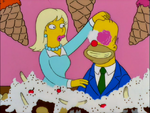 When Homer ordered the biggest ice-cream sundae they make, "The Ark", he got so over-excited that he fainted and his limp head fell into the sundae. Bart immediately concluded that he was just gorging, but Homer's head was still in it. When they pulled Homer's head from the sundae he had a clown face thanks to a banana, a cherry and two flavours of ice-cream.[6]
The family went there after a visit to the dentist, and Homer purchased the millionth ice-cream cone. He later appeared on an episode of Smartline, which caused controversy, on Homer's part as usual.[7]
At some point, the restaurant got rebranded to PQB's.[8]
Non-canon
[
edit
]
| | |
| --- | --- |
| | The contents of this article or section are considered to be non-canon and therefore may not have actually happened or existed. |
The Simpsons: Tapped Out
[
edit
]
This section is transcluded from The Simpsons: Tapped Out buildings/Restaurants (premium). To edit it, please edit the transcluded page.

Phineas Q. Butterfat's
Image
Cost
Build time
Reward
Sell price
Conformity increase
Availability
Unique?
Dimensions -

D

x

W

Yearbook
10
24h
80
Gluttony +10
Valentine's Day 2013
5 x 8

30
80
6s
Valentine's Day 2014, 2015, 2016, "22 for 30", Treehouse of Horror XXXII and Hot Diggity D'oh!
Premium
60
6s
Valentine's 2017, 2018 and Love, Springfieldian Style
Premium (Date Night Mystery Box)
1
6s
Love and War
Love and War Mystery Box
1
6s
Cirque du Springfield
History Mystery Box
Task
Time
Reward
/h
/h
Causing Cavities
16h
350, 35
21.875
2.1875
Behind the Laughter
[
edit
]
Q. Butterfat's now appears in the new opening sequence. It can be seen in the lower right hand corner before the billboard and the Elementary School. The top of the building features a head that resembles Marge.
Appearances
[
edit
]
Gallery
[
edit
]
References
[
edit
]