Le Pamperie Hair Salon
Wikisimpsons - The Simpsons Wiki
Le Pamperie Hair Salon
Turn Your Head and Coif
Location Information
Le Pamperie Hair Salon (also called Turn Your Head and Coif) are hair salons in Springfield where Marge and the other Springfieldians get their hair cut.
The hair salons have been shown to be at the Springfield Mall as well as downtown Springfield.
History
[
edit
]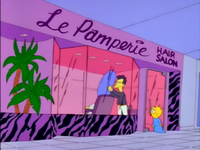 When Marge was at Rancho Relaxo, Maggie snuck out and went to Le Pamperie Hair Salon at the Springfield Mall searching for Marge. Maggie believed a customer was Marge but it was a woman with a similar hair.[1]
Marge went with Patty and Selma to the hair salon. Patty got a Mary Tyler Moore hairdo, whereas Selma got a Farrah Fawcett. While in the hair dryers, Patty gave Marge a F.Q. test (Fatherhood Quotient) from Peephole magazine pointing out that Homer will most likely fail.[2]
After Lisa agreed to be a contestant in the "Little Miss Springfield" pageant, Marge brought her to Turn Your Head and Coif for a new hairstyle.[3]
When Kent Brockman reporting on Springfield businesses price gouging when the production arrived to shoot the Radioactive Man film adaption, clips are shown including a sign reading "GIANT HORRIBLE TOUPÉES $1,000/Lb" at Le Pamperie Hair Salon.[4]
When Marge became a member of Springfield Police Department, she goes to the hair salon at Springfield Mall, but the other patrons were nervous and cautious around her. Marge tried to assure them she was off-duty and still the same person, but it only goes worst when she after she mistakes Helen's chair being lowered for a gunshot.[5]
Marge was at the salon getting a haircut from Armando, but Homer, attempting to become a better husband, quietly took Armando's place and begin to badly cut her hair himself. An unaware Marge saw the amount of hair that was falling to the floor and commented that Armando was taking a lot off. When she looked into the mirror and saw that Homer had taken Armando's place, she first screamed in dismay, then began lecturing Homer.[6]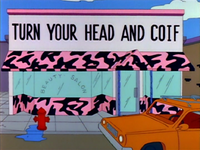 The salon once refused to honor Marge's coupon for two free hair streaks. When Homer confronted the manager, the manager protested that the cost of streaking that much hair would ruin him financially. After inspecting the salon's accounting records, Homer agreed with the manager and was shocked at how thin the salon's profit margins were. However, he also noted that the salon was spending $400 a month for loafer lightener, when they could achieve the same results with a mincing gel. The manager was grateful for the money-saving idea and then gave Marge her free hair streaks.[7]
When Marge discovered a grey hair, she told Julio about it during her next visit to the salon. Julio confessed that he had been secretly dyeing her hair blue for years, but because the fumes from the dye caused partial memory loss, Marge had no memory of the dye treatments.[8]
Marge was at the Le Pamperie Hair Salon when she wanted same hair as Patty and Selma. The hairdresser hesitated to cut her so she asked if she instead should go to The Perm Bank.[9]
Non-canon
[
edit
]
| | |
| --- | --- |
| | The contents of this article or section are considered to be non-canon and therefore may not have actually happened or existed. |
The Simpsons: Tapped Out
[
edit
]
This section is transcluded from The Simpsons: Tapped Out buildings/Shops (premium). To edit it, please edit the transcluded page.

Turn Your Head and Coif
Image
Cost
Build time
Reward
Sell price
Conformity increase
Availability
Unique?
Dimensions -

D

x

W

Yearbook
60
6s
60
Vanity +200
County Fair
Premium
4 x 7

30
Task
Time
Reward
/h
/h
Keeping Outdated Styles Alive
4h
135, 15
33.75
3.75
Behind the Laughter
[
edit
]
Turn Your Head and Coif is a pun on the phrase "turn your head and cough," a request commonly made during physical examinations.
Appearances
[
edit
]
References
[
edit
]