Serenity Ranch
Wikisimpsons - The Simpsons Wiki
Serenity Ranch
Location Information
Serenity Ranch is a maximum security fat camp located an hour's drive from Springfield. Its slogan is "When diet, exercise and surgery aren't enough." Bart went to the camp for treatment after he became hooked on junk food and as a result gained a dangerous amount of weight.
Description
[
edit
]
Tab Spangler is the counselor at Serenity Ranch. A retired Marine, Spangler runs the camp in a very military style. He constantly berates the fat camp clients, strongly reminiscent of a military drill instructor working with new recruits. Spangler rouses the clients in the morning by banging garbage cans and lids together while hollering things such as "Wake up, fatties!" and "Dream calories are real calories!" The treatment has both physical components, such as having the clients run and pull a chariot; and psychological components, such as making the clients take responsibility for their weight gain and putting them through exercises where they vocalize hating junk food and throw it in the trash.
History
[
edit
]
After Bart became fat (to the point of having a heart attack) from eating the snacks from the Scammer & Z-Dog machines at Springfield Elementary School, his family and friends staged an intervention and sent him to Serenity Ranch to kick his junk food addiction. While Bart was at Serenity Ranch, the other attendees (and their reasons for being there, if specified) were: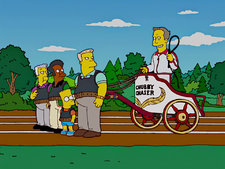 In one of the treatment exercises, Spangler had the clients pull a
chariot
while he rode behind them cracking a whip and making them tell why they were at the camp.
Kent Brockman
did quite well at this exercise, admitting to having a kettle corn habit, but Bart first denied he was fat and then tried to pass his weight gain off as a growth spurt. In another exercise,
Rainier Wolfcastle
scooped ice cream into a trash can, berating it all the while. Bart, however, cheated by going into the room below Wolfcastle, drilling a hole in the ceiling and through the trash can, and sucking the ice cream through the hole.
When Spangler caught Bart cheating at the ice cream exercise, he drove him back to Springfield and showed him what his family was going through: In order to afford the cost of the fat camp treatment, the Simpsons had turned the family home into a youth hostel and taken in a large group of German backpackers, who constantly berated and humiliated them. Confronted with the true cost of his addiction, Bart kicked his junk food habit. He then put Spangler's teaching into practice by breaking into Springfield Elementary and saying to the junk food machines, "I'm ending your vending, Dog" as he smashed them with an axe. Bart stole the money from the machines and took it home to his parents, and they were able to both pay for the treatment and kick the backpackers out of the house.
After this, Spangler announced that the family still had three weeks of unused (and non-refundable) treatment time left, and suggested that they take advantage of it. Homer ended up going to Serenity Ranch, but the outcome of his treatment isn't known.
Signage
[
edit
]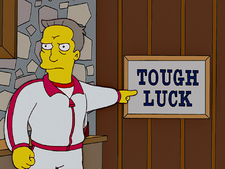 Serenity Ranch seems to have an ongoing problem with inaccurate signage, much to Tab Spangler's annoyance. When Bart first arrived at the camp, Spangler said that Bart needed tough luck, gesturing at a "Tough Luck" sign on the wall to make his point.
Marge
asked if the sign was supposed to be "Tough Love" instead. When Spangler saw the error, he started to get angry but then calmed down and thanked Marge for pointing it out. Later, as Spangler was driving Homer to Serenity Ranch, he said that Homer was suffering from poor self-esteem and pointed to a small sign in the car that read "P.S.I." This time, Spangler realized the error himself (that "Esteem" doesn't start with an "I") and went into a rage, yelling that "Every sign is wrong!" He then threw the "P.S.I." sign out the car window.
Non-canon
[
edit
]
| | |
| --- | --- |
| | The contents of this article or section are considered to be non-canon and therefore may not have actually happened or existed. |
The Simpsons: Tapped Out
[
edit
]
This section is transcluded from The Simpsons: Tapped Out buildings/Medical facilities. To edit it, please edit the transcluded page.

Serenity Ranch
Image
Cost
Build time
Reward
Sell price
Conformity increase
Availability
Unique?
Dimensions -

D

x

W

FREE
Instant
N/A
Indolence +10
New Year New You
Survival of the Wellest Pt. 1
13 x 13
Task
Time
Reward
/h
/h
Preparing a Fresh Crop of Fatties
60m
35, 3
35
3
Appearances
[
edit
]