Caesar's Pow-Wow Casino
Wikisimpsons - The Simpsons Wiki
Caesar's Pow-Wow Casino
Location Information

Casear's Pow-Wow Casino is a casino on an Indian reservation.
History
[
edit
]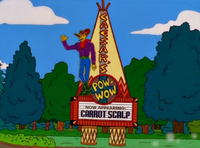 The Simpson family come upon the casino after being unable to camp at nearby Larva Lake, due to an insect takeover. While visiting the casino, Bart is shown a vision of the future by the casino's Native American manager. Meanwhile, Homer opens a second mortgage on their house and pushes a waitress, while Marge loses $20,000, at which time the family leaves the casino.
In addition to gambling, the casino also offers entertainment acts, including Carrot Scalp and Gabbo and Arthur Crandall.
Non-canon
[
edit
]
| | |
| --- | --- |
| | The contents of this article or section are considered to be non-canon and therefore may not have actually happened or existed. |
The Simpsons: Tapped Out
[
edit
]
This section is transcluded from The Simpsons: Tapped Out buildings/Casinos. To edit it, please edit the transcluded page.

Caesar's Pow-Wow Casino
Image
Cost
Build time
Reward
Sell price
Conformity increase
Availability
Unique?
Dimensions -

D

x

W

Yearbook
150
6s
150
Tribal Chief (25)
Consumerism +10
Thanksgiving 2013, 2014, Gobble, Gobble, Toil and Trouble, Burns' Casino,
The Most Dangerous Game, This Thanksgiving's Gone to the Birds!, Thanksgiving 2018, All American Auction, Blargsgiving and Tragic Magic
Premium
7 x 15

30
60
The Springfield Jobs
Premium (Monte Burns' Casino Box)
1
Springfield Enlightened
Banned by the Buddha Mystery Box
Task
Time
Reward
/h
/h
Loosening Slots
8h
200, 22
25
2.75
Behind the Laughter
[
edit
]
The casino is a reference to Caesar's Palace.
Appearances
[
edit
]