Springfield Monorail
Wikisimpsons - The Simpsons Wiki
"Monorail" redirects here. For other uses of "Monorail", see Monorail (disambiguation).
Springfield Monorail
Vehicle Information
The Springfield Monorail was a short lived solar powered transport system in Springfield.
History
[
edit
]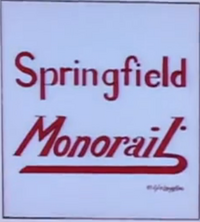 Thanks to a fine Mr. Burns had to pay for illegally dumping radioactive waste in a playground, Springfield came into possession of $3,000,000 (though Mayor Quimby attempted to pocket a million dollars for himself). A town meeting was held to decide what to do with the money. The townspeople were on the verge of adopting Marge Simpson's proposal to use the money to repair Main Street, when a man named Lyle Lanley interrupted the meeting and suggested using it to buy one of his monorails. Lanley's sales pitch trumped Marge's proposal, and the town built the monorail. Some people voiced concerns about the practicality of a monorail in Springfield, but Lanley deftly skirted around their questions. Homer Simpson became the conductor of the Monorail, chosen at random after an "extensive 3 week training course", which actually consisted solely of the meaning of the monorail's name (mono= one; rail= rail).
North Haverbrook
[
edit
]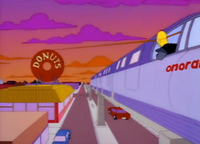 Marge was not convinced by Lanley's charm and decided to go to North Haverbrook to see what a monorail had done for their town. She arrived to see the monorail in ruins and North Haverbrook a veritable ghost town, devastated by "one of the crappiest trains ever built", and learned that Lanley had deliberately cut every corner possible and then skipped town with all of the leftover money. The result: North Haverbrook's monorail crashed almost instantly, causing tremendous property damage and loss of life.
Maiden voyage
[
edit
]
On the day of the maiden voyage, Lyle Lanley escaped from Springfield with the money he'd "saved" from cost-cutting. Soon after, the monorail went out of control after a part blew, unable to stop because it was solar powered and the braking system was broken. The passengers were saved when Homer Simpson used the letter "M" (from the word "Monorail" in the door signage) as an improvised anchor. Homer threw the "M" (tied to the monorail by a rope) out the window and it became stuck in a giant advertising donut of the shop Donuts, bringing the monorail to a stop.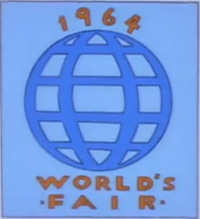 Lyle Lanley was later attacked by an angry mob in North Haverbrook when his escape plane touched down there briefly. The Springfield Monorail was demolished, but the station was not, and it is currently now in ruin and a target for vandals. The abandoned station has since became a popular tourist destination site.
Even years after the Monorail incident, the people of Springfield still remember it, as Moe once spoke about it on the news as something the town gets used to.[1]
Build over
[
edit
]
A project called Beautiful Skyline Park was built on top of the Monorail.[2]
Appearances
[
edit
]
References
[
edit
]