Fiesta Terrace
Wikisimpsons - The Simpsons Wiki
Fiesta Terrace
Location Information
Fiesta Terrace is an apartment complex where Jacques lives. It is on a turn off when heading towards the Power Plant. It's exact location is unknown.
History
[
edit
]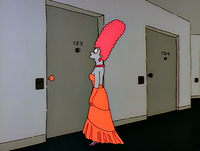 Jacques is a man who was in love with Marge Simpson. They met at the Bowlarama. Homer had purchased a bowling ball for Marge for her birthday. Homer was expecting her to hate the present so she would give it to him, he even had his name engraved on the ball! Marge, to spite him, took the ball out to go bowling. There, she met a handsome bowler named Jacques. He offered to give Marge bowling lessons.
Marge began seeing him on a regular basis for lessons, seeming oblivious to Jacques heavy flirtations. That was until finally he propositioned her to come to his apartment, the Fiesta Terrace, for some romance. She fantasized about it, but in the end, made the choice to stick with Homer.
Non-canon
[
edit
]
| | |
| --- | --- |
| | The contents of this article or section are considered to be non-canon and therefore may not have actually happened or existed. |
The Simpsons: Tapped Out
[
edit
]
This section is transcluded from The Simpsons: Tapped Out buildings/Homes. To edit it, please edit the transcluded page.

Fiesta Terrace
Image
Cost
Build time
Reward
Sell price
Conformity increase
Availability
Unique?
Dimensions -

D

x

W

Yearbook
150
6s
150
Jacques
Bonus Cash and XP: 4%
Indolence +10
Pin Pals and Marge at the Bat
Premium
7 x 12

30
60
Valentine's Day 2018 and Love, Springfieldian Style
Premium (Date Night Mystery Box)
50
Thanksgiving 2018, All American Auction, Blargsgiving, Northward Bound, The Atom Smasher and Cold Turkey
Premium (Imports Mystery Box)
Task
Time
Reward
/h
/h
Microwaving Dinner for One
6h
175, 18
29.17
3
Internal Name
Groups
Tiles
ID
FiestaTerrace
N/A
Grass, Pavement, Boardwalk Section, Ornate Pier Section, Dirt
180001
.
Appearances
[
edit
]