Hellroads
Wikisimpsons - The Simpsons Wiki
| | |
| --- | --- |
| | The contents of this article or section are considered to be non-canon and therefore may not have actually happened or existed. |
Hellroads
Location Information
Hellroads is a school located in Hell.
History
[
edit
]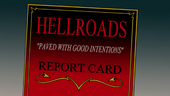 When Lisa was in the process of translating the ancient Aramaic text on a desk in Bart's classroom with iRunes, Bart snatched the MyPad off her. It read: "He who reads this rune translation will be taken to damnation." After reading this, the two were sent to Hellroads school in Hell. Whilst at the school, he decided to become a student for a semester and got straight As, as well as becoming class mal-edictorian, using the name Beelzebart Simpson.
The Simpsons: Tapped Out
[
edit
]
This section is transcluded from The Simpsons: Tapped Out buildings/Treehouse of Horror buildings. To edit it, please edit the transcluded page.

Hellementary School
Image
Cost
Build time
Reward
Sell price
Conformity increase
Availability
Unique?
Dimensions -

D

x

W

Yearbook
90
6s
90
Obedience +20
Treehouse of Horror XXVII
Premium
5 x 13

30
65
Treehouse of Horror XXVIII
Premium (Magical Mystery Box)
50
Treehouse of Horror XXIX and XXX
Premium (Treehouse of Horror Mystery Box)
FREE
Treehouse of Horror XXXI
School Days, Hell Daze Pt. 2
1
Splash and Burn, Tragic Magic and Mirror Mayhem
Shattered Dreams Mystery Box (after event completion)
Task
Time
Reward
/h
/h
Paving Roads with Good Intentions
20h
440, 40
22
2
Internal Name
Groups
Tiles
ID
HellementarySchool
N/A
Grass, Pavement, Dirt
163014
Appearances
[
edit
]