Springfield Arena Football Arena
Wikisimpsons - The Simpsons Wiki
Buzz Cola Dome
Location Information

The Springfield Arena Football Arena, previously known as the Springfield Atoms Stadium and Buzz Cola Dome, is an arena in Springfield, owned by Buzz Cola and is the home of the Springfield Atoms.
History
[
edit
]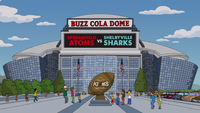 When Homer helps Mr. Burns by getting down his out of control hot air balloon, he tells Homer that he can have whatever he wishes as a reward. Homer's original demands were for all of Mr. Burns' money and stuff, but he told Homer to think "lower and likelier", so Homer then asked for Super Bowl tickets. Mr. Burns gave him a sour look, so Homer asked for playoff tickets. Again Mr. Burns gave stared at him angrily and Homer hastily said "regular season bobble-head day". At that point Mr. Burns angrily exclaimed "Nothing-Head Day!"
Homer and his family then go to the stadium to watch the game on "Nothing-Head day". Inside the stadium are a number of shops. Homer ends up embarrassing Bart by tickling him which caused him to wet his pants, while on the fan-cam.[1]
The Springfield Atoms played a game at the Buzz Cola Dome.[2]
Shelbyville Trauma played a game against the Springfield Concussions at the Springfield Arena Football Arena. The arena was built and upgraded by selling the content of the Springfield Museum of Fine Arts. Joan Miró's The Poetess was hung up in the stadium where Homer could go and view it any time.[3]
At the stadium, Homer, Moe, Lenny and Carl are watching the Springfield Atoms vs. Shelbyville Shelbyvillians match, and when the crowd starts shouting choke, a hotdog ends up choking Homer to death.[4]
Non-canon
[
edit
]
| | |
| --- | --- |
| | The contents of this article or section are considered to be non-canon and therefore may not have actually happened or existed. |
The Simpsons: Tapped Out
[
edit
]
This section is transcluded from The Simpsons: Tapped Out buildings/Stadiums and arenas. To edit it, please edit the transcluded page.

Springfield Atoms Stadium
Image
Cost
Build time
Reward
Sell price
Conformity increase
Availability
Unique?
Dimensions -

D

x

W

150
6s
150
Grayson Mathers 25)
Vanity +400
The Atom Smasher
Premium
12 x 14
Task
Time
Reward
/h
/h
Sending More Fans to the Drunk Tanks
4h
135, 15
33.75
3.75
The stadium has a retractable roof.
Lisa mentions that she had lied down in front of bulldozers to protest the construction of the stadium.
Appearances
[
edit
]
References
[
edit
]