L.A. Body Works
Wikisimpsons - The Simpsons Wiki
L.A. Body Works
Location Information
The L.A. Body Works is a health club in Springfield.
History
[
edit
]
Marge gave the L.A. Body Works a try when she was trying to lose weight and was looking for a gym to join. She felt self-conscious when she noticed she was the only one having trouble with the treadmill, and decidedly out of place when she saw that everyone else had above-average physiques.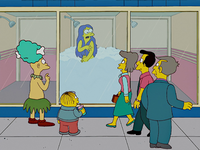 After her workout, Marge took a relaxing shower, only to find that her shower stall had a full-length window facing the street, providing passersby with a complete view of her.
The experience convinced Marge that the L.A. Body Works wasn't the gym for her, so she decided to create Shapes.
Known members
[
edit
]
Non-canon
[
edit
]
| | |
| --- | --- |
| | The contents of this article or section are considered to be non-canon and therefore may not have actually happened or existed. |
The Simpsons: Tapped Out
[
edit
]
This section is transcluded from The Simpsons: Tapped Out buildings/Heights crafting buildings. To edit it, please edit the transcluded page.

L.A. Body Works
Image
Cost
Build time
Reward
Sell price
Conformity increase
Availability
Unique?
Dimensions -

D

x

W

FREE
N/A
N/A
Consumerism +10
Springfield Heights
4 x 7



Jobs

Character
Job
Time
Reward
Disco Stu
Teach Sweatin' 70's Workout
8m
2, 5
Moe Szyslak
Watch Yoga Class
8m
1, 3
Bart
Drop Tadpoles In The Pool
8m
1, 3
Legs
Workout His Swing Arm
8m
1, 3
Snake
Recruit Some Muscle
8m
1, 3
Nelson
Steal Dirty Towels for Home
8m
1, 3
Duffman
Makin' the Duff Buff
8h
60, 120
Lou
Respond to a Call About Creepers
8h
30, 60
Miss Hoover
Attempt to Perform Yoga
8h
30, 60
Behind the Laughter
[
edit
]
The L.A. Body Works is a parody of the health club chain LA Fitness.
Appearances
[
edit
]