Ajax Steel Mill
Wikisimpsons - The Simpsons Wiki
Ajax Steel Mill
Location Information

The Ajax Steel Mill is a steel mill in Springfield. During breaks from work, it doubles as a gay nightclub called The Anvil.
History
[
edit
]
When Homer was concerned that Bart was gay, he took Bart to a steel mill to show him an example of real men hard at work. Roscoe, the mill's manager, gave them a tour which Homer enjoyed, until they met the rest of the workers. When Roscoe asked the workers to say hello to Homer and Bart, they all waved and said "Hel-looooooo!" in a sing-song, stereotypically effeminate fashion, and Homer saw that all the workers in the plant were openly homosexual.
Roscoe then pulled a chain which made music play and a disco ball descend from the ceiling, and all the workers started dancing with each other, turning the steel mill into a gay nightclub, called "The Anvil". Roscoe said that after working hard, they played hard.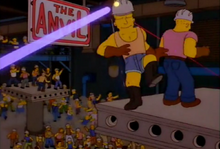 Homer then beat a hasty retreat from the steel mill, covering Bart's eyes as he backed away.
Non-canon
[
edit
]
| | |
| --- | --- |
| | The contents of this article or section are considered to be non-canon and therefore may not have actually happened or existed. |
The Simpsons: Tapped Out
[
edit
]
This section is transcluded from The Simpsons: Tapped Out buildings/Factories. To edit it, please edit the transcluded page.

Ajax Steel Mill
Image
Cost
Build time
Reward
Sell price
Conformity increase
Availability
Unique?
Dimensions -

D

x

W

Yearbook
150
6s
150
Roscoe (25)
Gluttony +20
Pride Month 2015, Homer's Chiliad and Pride 2017
Premium
10 x 12

30
50
Itchy & Scratchy Land
Premium (Pride Mystery Box)
80
Thanksgiving 2018, All American Auction, Blargsgiving, Northward Bound and The Atom Smasher
Premium (Men Mystery Box)
60
Pride 2020
Premium (Pride Mystery Box)
Task
Time
Reward
/h
/h
Pounding Hot Steel
8h
200, 22
25
2.75
Behind the Laughter
[
edit
]
Appearances
[
edit
]