Ye Olde Off-Ramp Inn
Wikisimpsons - The Simpsons Wiki
Ye Olde Off-Ramp Inn
Location Information
Ye Olde Off-Ramp Inn is a motel in Springfield. It is located just off of the freeway, at the base of an off-ramp, whence it derives its name.
History
[
edit
]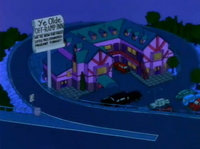 Homer and Marge stayed at the 'Inn when they treated themselves to a romantic evening away from the kids, hiring a babysitter while they went to dinner and then to the Off-Ramp Inn. Their night was cut short, however, when Marge called home to check on things and got worried when no one answered the phone.[1] The whole Simpson family tried to stay there after their house became infested with termites.[2]
The inn once hosted the Little Miss Springfield Pageant, which Lisa Simpson won.[3]
Ye Olde Off-Ramp Inn does plenty of business. Its parking lot is often crowded, due to the fact that many of the guests have trouble finding a way to get back onto the freeway.[4]
Non-canon
[
edit
]
| | |
| --- | --- |
| | The contents of this article or section are considered to be non-canon and therefore may not have actually happened or existed. |
In The Simpsons: Hit & Run the inn is located near the Springfield Observatory. In Level 3, Krusty is staying at the inn and he can be spoken to using the doorbell.
In 2525 a new Ye Olde Off-Ramp Inn opened in Springfield with the name "The New Ye Olde Off-Ramp Inn".[5]
The Simpsons: Tapped Out
[
edit
]
This section is transcluded from The Simpsons: Tapped Out buildings/Hotels. To edit it, please edit the transcluded page.

Ye Olde Off-Ramp Inn
Image
Cost
Build time
Reward
Sell price
Conformity increase
Availability
Unique?
Dimensions -

D

x

W

Yearbook
150
6s
150
Amber Dempsey
Consumerism +10
County Fair
Premium
12 x 12

30
1
Blargsgiving, Northward Bound, The Atom Smasher and Cold Turkey
Gold Mystery Box
Task
Time
Reward
/h
/h
Ignoring Complaints
4h
135, 15
33.75
3.75
Internal Name
Groups
Tiles
ID
YeOldeOffRampInn
Shop
Grass, Pavement, Boardwalk Section, Ornate Pier Section, Dirt
186002
Appearances
[
edit
]
References
[
edit
]