Blockoland
Wikisimpsons - The Simpsons Wiki
Blockoland
Location Information

Blockoland is a large theme park located near Springfield.
Description
[
edit
]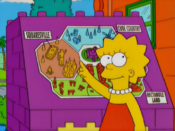 Blockoland's
raison d'etre
is
Blocko
building blocks, and the park is made almost entirely out of the blocks. Blockoland is divided into three sections: Rectangle Land, Cube Country, and Squaresville.
In addition to the features made of Blocko blocks, Blockoland's attractions include souvenir stands, a game room, and a cafeteria where the food is served in cube-shaped pieces that resemble tiny Blocko blocks and customers are encouraged to build their own meals.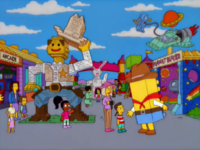 The park's cast members wear costumes made of giant Blocko blocks and are prone to getting stuck together if they bump into each other at the right angle to make the blocks connect. When that happens, a third park employee comes to the rescue and uses a crowbar to pry apart the stuck-together cast members.
Every evening at closing time, the park attractions made of Blocko blocks are disassembled for overnight storage.
History
[
edit
]
Homer saw a television advertisement for Blockoland and became enthralled with the park. He was determined to take the family there, in spite of Bart's and Lisa's indifference to the idea. Maggie, by contrast, was so eager to go that she strapped herself into her car seat, hopped in her seat to the car, got in and started the car.
After the Simpsons arrived at Blockoland, Lisa read the park's sections from a sign, and Marge thought that Squaresville sounded cool. At first, they went their separate ways, as Homer played with the funhouse mirrors and Bart went to the game room, where he played Rock 'Em Block 'Em Blockbots with Nelson Muntz. They met for lunch in the cafeteria, where Homer made himself an apple out of ham cubes. After that, they spent the rest of the day together enjoying the Blocko attractions and buying some souvenirs, including a T-shirt made of Blocko blocks for Bart and a Blocko model of the Eiffel Tower for Lisa. On the way home, Lisa assembled her model in the car and found that it was missing a piece. Homer turned the car around, drove back to the park, and got the missing piece for her.
Non-canon
[
edit
]
| | |
| --- | --- |
| | The contents of this article or section are considered to be non-canon and therefore may not have actually happened or existed. |
The Simpsons: Tapped Out
[
edit
]
This section is transcluded from The Simpsons: Tapped Out buildings/Entertainment buildings. To edit it, please edit the transcluded page.

Blockoland
Image
Cost
Build time
Reward
Sell price
Conformity increase
Availability
Unique?
Dimensions -

D

x

W

FREE
6s
N/A
Consumerism +10
Game of Games
E4 No Access Pass Pt. 2
12 x 13
85
When the Bough Breaks
Premium
Task
Time
Reward
/h
/h
Block You from Non-Rectangular Life.
4h
90, 10
22.5
2.5
Behind the Laughter
[
edit
]
Blocko is a parody of Lego, and Blockoland of Lego's theme park chain, Legoland.
Appearances
[
edit
]