Simpson & Son Pub
Wikisimpsons - The Simpsons Wiki
Simpson & Son Pub
Location Information
Simpson & Son Pub, originally known as O'Flanagan's Pub, is a bar in Dunkilderry, Ireland that has existed since World War II. It was named after Tom O'Flanagan, the former owner, but was later renamed after Homer and Abraham Simpson, the latest owners.
History
[
edit
]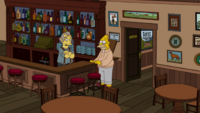 When Grampa posted overseas during World War II, he used to come to the pub. It was very popular and lots of people went there to dance, sing and drink. The Simpsons visited the pub during a trip to Ireland and learned that business had declined when Ireland become more modern and more people in Ireland started working. Homer and Grampa bought the pub after they got drunk with Tom. They renamed the bar to "Simpson & Son's Pub". At first business remained slow, but the pub became popular again after Homer and Grampa started allowing people to smoke inside. However, since this was against the law, Homer and Grampa were arrested and deported back to America. It's unknown what happened to the pub after that; it's possible that it was closed down because of the smoking violation.
Non-canon
[
edit
]
| | |
| --- | --- |
| | The contents of this article or section are considered to be non-canon and therefore may not have actually happened or existed. |
The Simpsons: Tapped Out
[
edit
]
This section is transcluded from The Simpsons: Tapped Out buildings/Bars. To edit it, please edit the transcluded page.

O'Flanagan's Pub
Image
Cost
Build time
Reward
Sell price
Conformity increase
Availability
Unique?
Dimensions -

D

x

W

1,900
30s
200
Tom O'Flanagan
Gluttony +10
St. Patrick's Day 2013, 2014, 2015 and 2016
4 x 5
Task
Time
Reward
/h
/h
Irishing Up Drinks
4h
90, 10
22.5
2.5
Internal Name
Groups
Tiles
ID
OFlanagansPub
Misc Cash, Bars
Grass, Pavement, Boardwalk Section, Ornate Pier Section, Beach, Dirt
86
Appearances
[
edit
]