Planet Hype
Wikisimpsons - The Simpsons Wiki
Planet Hype
Location Information
Planet Hype (a.k.a. Planet Springfield) is an over-hyped, overly trendy movie-themed restaurant located at the Springfield Squidport. It specializes in breakfast-cereal-encrusted meats, such as the Krusty-O Chicken. Rainier Wolfcastle is frequently seen here, as he is a principal investor in the establishment.
History
[
edit
]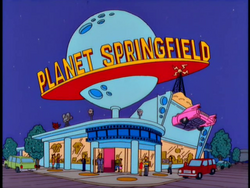 The restaurant contains memorabilia from many films, including the Cane from Citizen Kane and the script for The Cable Guy, starring Jim Carrey. (However, the script ended up being torn apart by Homer, who hated the movie for "nearly ruin[ing] Jim Carrey's career.")[1]
Hans Moleman drove his pink Cadillac into the side of the building on its grand opening.
Non-canon
[
edit
]
| | |
| --- | --- |
| | The contents of this article or section are considered to be non-canon and therefore may not have actually happened or existed. |
In The Simpsons Road Rage, it is located in the Entertainment District. In The Simpsons: Hit & Run, it is located in the Springfield Squidport. In The Simpsons Game, it is located next to the Android's Dungeon and the Bowl-A-Rama right in the town square.
The Cadillac on the side of the building is a hidden vehicle in The Simpsons: Hit & Run.
The Simpsons: Tapped Out
[
edit
]
This section is transcluded from The Simpsons: Tapped Out buildings/Squidport buildings. To edit it, please edit the transcluded page.

Planet Hype
Image
Cost
Build time
Reward
Sell price
Conformity increase
Availability
Unique?
Dimensions -

D

x

W

Yearbook
150
6s
150
Gluttony +10
Level 16
Squidport Pt. 5
Premium
5 x 10

30
Task
Time
Reward
/h
/h
Serving food TO THE EXTREME!
12h
300, 30
25
2.5
Appearances
[
edit
]
References
[
edit
]
This article is covered by multiple navigation templates. Click "show" to view.