Van Houten house
Wikisimpsons - The Simpsons Wiki
This article is on the to-do list.
This article needs: To be improved.
The title of this article is conjectural.
Though the topic is found within The Simpsons universe, a proper name is not available.
Van Houten house
Location Information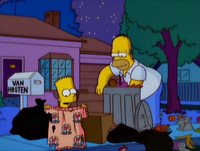 The Van Houten house is the house of the Van Houten family. It has a pink exterior and is down the street from the Simpsons' house.
The house had to be sprayed for potato bugs at one point, forcing the Van Houtens to live with Milhouse's grandmother.[1] Bart and his friends would later confiscate the tent being used to quarantine the house for his revival, when he believed himself to be a faith healer.[2]
Non-canon
[
edit
]
| | |
| --- | --- |
| | The contents of this article or section are considered to be non-canon and therefore may not have actually happened or existed. |
The Simpsons: Tapped Out
[
edit
]
This section is transcluded from The Simpsons: Tapped Out buildings/Homes. To edit it, please edit the transcluded page.

Van Houten House
Image
Cost
Build time
Reward
Sell price
Conformity increase
Availability
Unique?
Dimensions -

D

x

W

3,000
60m
300
Milhouse (25)
750
Indolence +10
Level 8
Thrillhouse Pt. 1
6 x 8
Task
Time
Reward
/h
/h
Income Tax
60m
35, 4
35
4
Appearances
[
edit
]
References
[
edit
]