Herman's Military Antiques
Wikisimpsons - The Simpsons Wiki
Herman's Military Antiques
Location Information
Herman's Military Antiques is a war memorabilia store in downtown Springfield.
History
[
edit
]
Bart once enlisted the help of Herman Hermann, the store's owner, (a slightly deranged man with a missing arm) in waging war on Nelson Muntz.[1] After Bea Simmons died, Abe spent $400 of his $106,000 inheritance from her on a hat that Napoleon supposedly wore.[2] Homer once visited his store to look at weapons for his Vigilante group to use, including a miniature A-Bomb that was supposedly used by the US Government to blow away Beatnik groups during the fifties.[3]
At one point, Chief Wiggum and Snake were held hostage at gunpoint in the store by Herman.[4]
Weapons and other memorabilia
[
edit
]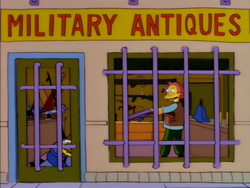 World War One German helmet
Rapier (with sheath)
Bat with a Nail through it
M9 Beretta
Smith and Wesson Handgun
Bazooka
Miniature A-Bomb
Flail
Musket
Bomb
Spear with a hook
Medal
World War II Helmet
Bullet Casings
Missiles
Fez
Non-canon
[
edit
]
| | |
| --- | --- |
| | The contents of this article or section are considered to be non-canon and therefore may not have actually happened or existed. |
Homer was inspecting a bomb shelter on Herman's lot when Springfield was blown up.[5]
The Simpsons: Tapped Out
[
edit
]
This section is transcluded from The Simpsons: Tapped Out buildings/Shops (non-premium). To edit it, please edit the transcluded page.

Herman's Military Antiques
Image
Cost
Build time
Reward
Sell price
Conformity increase
Availability
Unique?
Dimensions -

D

x

W

52,500
4h
5,250
Herman (25)
Consumerism +10
Level 30
Military Antiques Pt. 1
3 x 7
Task
Time
Reward
/h
/h
Mass-Producing Antiques
12h
225, 20
18.75
1.67
Herman's Military Antiques was formerly a pet shop.[4]
Appearances
[
edit
]
References
[
edit
]