She-She Lounge
Wikisimpsons - The Simpsons Wiki
She-She Lounge
Location Information

The She-She Lounge is a lesbian bar located in the Lower East Side of Springfield.
Description
[
edit
]
The She-She Lounge is one of the longest-lasting lesbian bars in the history of Springfield. While other lesbian bars have come and gone, the She-She has endured and become a symbol of pride and sisterhood to the city's lesbian community. It also serves the best margaritas in town (calling them the Lovely Margarita Meter Maid) and provides a friendly and laid-back atmosphere which makes it one of the finest watering holes in Springfield.[1]
The bar has some safety issues, lacking a fire exit,[2] but it does have a no-smoking policy.[3]
History
[
edit
]
Homer visited the She-She Lounge after he was banned from Moe's Tavern and was looking for another place to drink in. After spending some time drinking at the bar, he noticed that something was bothering him about the place. After another moment's thought, he realized what it was: "This lesbian bar doesn't have a fire exit!" Homer then derisively said, "Enjoy your deathtrap, ladies," and walked out, prompting one of the other customers to ask, "What was her problem?"[2]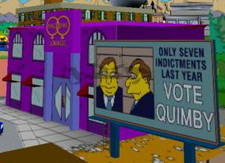 Kirk Van Houten
was a regular customer at the She-She Lounge while he and
Luann
were split up. He figured that as the only male in the establishment, he had a good chance of finding a date among any heterosexual relatives or co-workers brought in by the bar's regular clientele. It's unknown how much success Kirk had with this tactic, as word got out to "keep an eye out for that one lone, pathetic guy-loser who frequents the place". Kirk still liked his odds, however, and enjoyed the bar's Mai Tais.
[1]
In a support group for the lovelorn, Patty told about giving the bar scene a try by hanging out at the She-She Lounge looking for dates. However, it didn't work out as she was kicked out for smoking on the premises.[3]
Non-canon
[
edit
]
| | |
| --- | --- |
| | The contents of this article or section are considered to be non-canon and therefore may not have actually happened or existed. |
The Simpsons: Tapped Out
[
edit
]
This section is transcluded from The Simpsons: Tapped Out buildings/Bars. To edit it, please edit the transcluded page.

She-She Lounge
Image
Cost
Build time
Reward
Sell price
Conformity increase
Availability
Unique?
Dimensions -

D

x

W

Yearbook
60
6s
60
Gluttony +20
Valentine's Day 2016, 2017, 2018, Pride 2017 and Love, Springfieldian Style
Premium
4 x 8

30
50
Itchy & Scratchy Land
Premium (Pride Mystery Box)
60
Pride 2020
Premium (Pride Mystery Box)
1
Love and War
Love and War Mystery Box
1
Springfield Enlightened
Banned by the Buddha Mystery Box
1
Cirque du Springfield
History Mystery Box
Task
Time
Reward
/h
/h
Cleaning Lipstick Off Glasses
12h
300, 30
25
2.5
Appearances
[
edit
]
References
[
edit
]