Springfield Tar Pits
Wikisimpsons - The Simpsons Wiki
Springfield Tar Pits
Location Information

Springfield Tar Pits is a tar pits in Springfield.
History
[
edit
]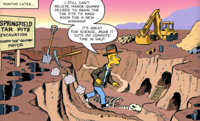 Professor Frink was visit the Springfield Tar Pits before Mayor Quimby was going to drain it to make room for a new highway. He found their paintings from the stone age that looks like Hans Moleman but he understand it was just a coincidence.[1]
Non-canon
[
edit
]
| | |
| --- | --- |
| | The contents of this article or section are considered to be non-canon and therefore may not have actually happened or existed. |
The Simpsons: Tapped Out
[
edit
]
This section is transcluded from The Simpsons: Tapped Out buildings/Miscellaneous buildings (premium). To edit it, please edit the transcluded page.

Tar Pits
Image
Cost
Build time
Reward
Sell price
Conformity increase
Availability
Unique?
Dimensions -

D

x

W

Yearbook
175
6s
175
Petroleus Rex (25)
Consumerism +10
Superheroes and Superheroes 2
Premium
11 x 9

30
60
Superheroes Return
Premium (Heroes and Villains Mystery Box)
60
Super Powers
Premium (Mystery Box The Sequel)
1
Blargsgiving, Northward Bound and The Atom Smasher
Gold Mystery Box
150
Treehouse of Horror XXXII
Premium
1
Cirque du Springfield
History Mystery Box
Task
Time
Reward
/h
/h
Preserving Dinosaur DNA
8h
200, 22
25
2.75
Tourist Information Center
[
edit
]
Tourist Information Center
Image
Cost
Build time
Reward
Sell price
Conformity increase
Availability
Unique?
Dimensions -

D

x

W

FREE
6s
100
Obedience +10
Destination Springfield
Around the World Pt. 5
4 x 4
1
Cirque du Springfield
History Mystery Box
45
Splash and Burn
Premium
Appearances
[
edit
]
References
[
edit
]