Cirque de Purée
Wikisimpsons - The Simpsons Wiki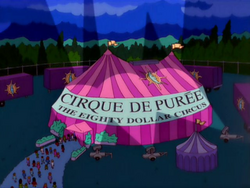 The Cirque de Purée is a French-Canadian circus that travels the world.
History
[
edit
]
The Simpson family attended, although Homer didn't want to. In the circus, they allowed audience participation (although the guy was obviously part of the circus) and had acrobats and clowns. Marge was amazed at the positions the women could get their bodies into, but Homer was highly unnerved by a juggler in a skin-tight outfit performing practically on his lap.
The show had to be cut short as a storm hit the tent, causing it to fall apart.
The acts include:
Ushers that disappear into thin air.
Acrobats that join together to form shapes, such as elephants.
Clowns that carry jars of rainbows.
Non-canon
[
edit
]
| | |
| --- | --- |
| | The contents of this article or section are considered to be non-canon and therefore may not have actually happened or existed. |
The Simpsons: Tapped Out
[
edit
]
This section is transcluded from The Simpsons: Tapped Out buildings/Circus buildings. To edit it, please edit the transcluded page.

Cirque De Puree
Image
Cost
Build time
Reward
Sell price
Conformity increase
Availability
Unique?
Dimensions -

D

x

W

150
6s
150
Circus Acrobat (25)
Consumerism +20
A Simpsons Christmas Special and Cirque du Springfield
Premium
6 x 10
60
Abe's in Toyland
Premium (Winter Wonderland Mystery Box)
1
Blargsgiving, Northward Bound and The Atom Smasher
Gold Mystery Box
1
A Christmas Peril
Shattered Dreams Mystery Box (after event completion)
Task
Time
Reward
/h
/h
Juggling Audience Expectations
4h
135, 15
33.75
3.75
Tickets to the circus cost $80 and are non-refundable. A pamphlet promoting the circus says that the performers "don't believe in refunds or exploiting animals for entertainment".
Behind the Laughter
[
edit
]
Appearances
[
edit
]