The Beer -N- Brawl
Wikisimpsons - The Simpsons Wiki
The Beer -N- Brawl
Location Information
The Beer -N- Brawl is a country honky-tonk redneck bar located in Spittle County and about two hours' driving time from Springfield. It is where Homer Simpson discovered Lurleen Lumpkin.
Description
[
edit
]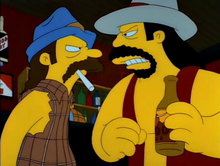 The Beer -N- Brawl's features are that it serves plenty of beer, frequently has country western music acts performing live, and caters to a very rowdy clientele. The B -N- B's customers start fights at the drop of a hat, for any reason or no reason at all. While the bar tolerates the fighting, it has signs discouraging biting.
When the Beer -N- Brawl's customers aren't fighting each other, they are known to attack the live musicians if they don't like the performance. In addition to fighting, the customers love their beer, and get upset when service is interrupted.
The Beer -N- Brawl serves Fudd Beer both on tap and in bottles, rather than Duff Beer. The bar also serves the Fudd variant Fudd Dry and sells the High Tar variant of Laramie Cigarettes.
History
[
edit
]
Homer Simpson visited The Beer -N- Brawl after he got into an argument with his family and decided he needed to get away for a while. When Homer arrived at the bar, a fight broke out almost as soon as he walked in the door. While Homer nursed a Fudd, two live performers came on stage. The first was Yodelin' Zeke, who only got through the first few notes of his song before one customer hit him over the head with a chair, knocking him unconscious. The next performer was Lurleen, who at the time was working as a cocktail waitress at the bar. The crowd booed and threw things when the announcer said that drink service would stop while Lurleen was singing, but they calmed down while she sang "Your Wife Don't Understand You". She then went back to serving drinks, and the customers resumed their usual rowdy behavior.
While the crowd was calmed by Lurleen's song, Homer was utterly entranced by it and wouldn't stop singing it. The next day, he drove back to Spittle County and helped Lurleen record the song on CD. Later, she asked him to be her manager, and he accepted.
Non-canon
[
edit
]
| | |
| --- | --- |
| | The contents of this article or section are considered to be non-canon and therefore may not have actually happened or existed. |
The Simpsons: Tapped Out
[
edit
]
This section is transcluded from The Simpsons: Tapped Out buildings/Bars. To edit it, please edit the transcluded page.

Beer -N- Brawl
Image
Cost
Build time
Reward
Sell price
Conformity increase
Availability
Unique?
Dimensions -

D

x

W

Yearbook
140
6s
140
Lurleen (25)
Gluttony +10
Level 48
Premium
4 x 8

30
1
Springfield Enlightened
Banned by the Buddha Mystery Box
Task
Time
Reward
/h
/h
Covering Floor in Sawdust
6h
175, 18
29.17
3
Appearances
[
edit
]