Skinner's house
Wikisimpsons - The Simpsons Wiki
Skinner's house
Location Information

Skinner's house is the home of Principal Skinner and his mother Agnes. The house belongs to Seymour, once clarifying that his mother lived with him, and not the other way around. The wall in front of the stair case is dedicated to framed photos of their silhouettes, which they make one night a week.[1][2]
History
[
edit
]
Skinner's house is the sight of frequent vandalism by the Springfield Elementary School students. Nelson, Jimbo, Dolph and Kearney once egged Skinner's house[3] and, in another instance, Bart and Milhouse blew up his mailbox and several garden gnomes with illegal fireworks.[4]
Skinner invited Superintendent Chalmers over to his house for lunch one time and had to sneak to a Krusty Burger behind his house after burning the meal he had planned to serve. The entire house eventually caught on fire, terrorizing his mother upstairs, who screamed for help.[5]
A school conference was held at Skinner's house once.[6]
Non-canon
[
edit
]
Video games
[
edit
]
In The Simpsons Road Rage, the house is a drop-off location in the Evergreen Terrace level.
In The Simpsons Skateboarding, the house can be seen at the top of a hill in the Springfield Elementary level.
The Simpsons: Tapped Out
[
edit
]
This section is transcluded from The Simpsons: Tapped Out buildings/Homes. To edit it, please edit the transcluded page.

Skinner House
Image
Cost
Build time
Reward
Sell price
Conformity increase
Availability
Unique?
Dimensions -

D

x

W

50,750
4h
5,075
Agnes (25)
12,687
Indolence +10
Level 29
Hey Milhouse -- Eureka!
6 x 8
Task
Time
Reward
/h
/h
Income Tax
6h
120, 12
20
2
Behind the Laughter
[
edit
]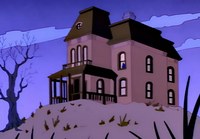 Appearances
[
edit
]
References
[
edit
]