King Toot's Music Store
Wikisimpsons - The Simpsons Wiki
King Toot's
Location Information
King Toot's Music Store is Springfield's premiere music store. It sells instruments of all kinds, and is located right next to Moe's Tavern. Lisa got both her saxophones from the store. Homer got Lisa's Saxophone reed from here for Lisa's recital, only to realize he turned up too late.[1]
Interior
[
edit
]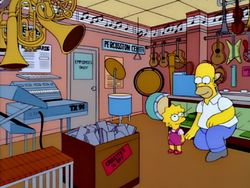 The interior of the store has many instruments, including saxophones, xylophones and clarinets. There's a music note banner that goes around the entire store.
Non-canon
[
edit
]
| | |
| --- | --- |
| | The contents of this article or section are considered to be non-canon and therefore may not have actually happened or existed. |
The store was once robbed by Snake Jailbird.[2] Lisa Simpson once took a job there.[3]
The Simpsons: Tapped Out
[
edit
]
This section is transcluded from The Simpsons: Tapped Out buildings/Shops (non-premium). To edit it, please edit the transcluded page.

King Toot's
Image
Cost
Build time
Reward
Sell price
Conformity increase
Availability
Unique?
Dimensions -

D

x

W

6,500
3h
650
1,625
Consumerism +10
Level 17
We Don't Sell iPods Pt. 2
3 x 5
Task
Time
Reward
/h
/h
Emptying Spit Valves
8h
150, 13
18.75
1.625
Internal Name
Groups
Tiles
ID
KingToots
Shop
Grass, Pavement, Boardwalk Section, Ornate Pier Section, Beach, Dirt
42
Appearances
[
edit
]
References
[
edit
]