Pod People
Wikisimpsons - The Simpsons Wiki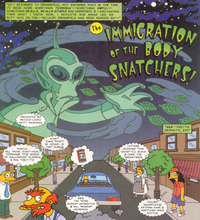 Pod People are an alien species from an unknown planet, who are able to take the place of humans by creating exact replicas using giant pea pods. The original human then disappears and the Pod Person takes its place. The Pod People are notable for their lack of emotions.
History
[
edit
]
The Pod People invaded Springfield by gradually replacing the townspeople. Some of the earliest people to be replaced were Mr. Zzyzwicz, Jimbo, Lenny and Lionel Hutz. Barney found a Pod Person growing in his garden, so he and Homer investigated its origin. A Pod replica of Luigi revealed how the Pod People invaded other planets by replacing its citizens with emotionless replicas while they sleep. Moments later, Barney was replaced by his pod. The pod replicas of Barney, Chief Wiggum and Moe tried to persuade Homer to join them but he escaped, only to find Bart, Lisa and Maggie had also been replaced. Homer and Marge hid in a mine, by which point most of Springfield were Pod People, but when Marge fell asleep she became a Pod Person.
It is unknown if the Pod People were successful in their plans, as Springfield was also being invaded by Venusians, Martians, Robot Ghost Clones and others.
Behind the Laughter
[
edit
]
They are based on the aliens from the 1956 film Invasion of the Body Snatchers.
Appearances
[
edit
]