The Be Sharps
Wikisimpsons - The Simpsons Wiki
The Be Sharps
Band Information
The Be Sharps were once a band consisting of Homer Simpson, Apu Nahasapeemapetilon, Seymour Skinner, Chief Wiggum (later replaced by Barney Gumble) and the late Chip Davis (non-canon).
History
[
edit
]
They used to perform at Moe's Tavern but then started to perform at Springfield State Prison and The First Church of Springfield in 1985. This then caught the eyes of a man named Nigel. He then suggested they should be a real band and should remove Chief Wiggum because he reminded too much of the Village People. After a failed tryout The Be Sharps heard Barney Gumble's good singing and decided to have him join the band. They then had a concert at The Statue of Liberty and won a Grammy Award. Afterwards they became unpopular, with Barney dating a Japanese conceptual artist, and split up. In their latest act they sang "Baby on Board" on top of Moe's roof.[1]
Non-canon
[
edit
]
| | |
| --- | --- |
| | The contents of this article or section are considered to be non-canon and therefore may not have actually happened or existed. |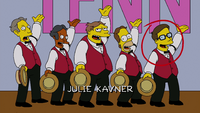 During a series of attacks by a mutated
Blinky
fish,
Principal Skinner
was killed and
Chief Wiggum
was among the crew of the
Orca II
when it hunted the fish. At one point, Wiggum heard ominous-sounding singing, went on deck to investigate, and found
Apu
,
Barney
and
Homer
in a small boat wearing their barbershop quartet attire. Wiggum asked, "Can I rejoin now that Skinner's croaked?", referencing Skinner's death and Wiggum's having been previously kicked out of the group. Homer curtly replied, "We'll call you!"
[2]
The members of The Be Sharps appeared as historical versions of themselves in Grampa's story of the origin of Christmas caroling.[3]
A tribute to the late Chip Davis included a photo where Chip was singing with The Be Sharps in New York.[4]
Products
[
edit
]
The Be Sharps also had various products. One was a foam squirter that got recalled because anyone who ate the foam would get poisoned and would die. Homer replied "Anyone who ate it deserved to die" at the same time which Bart was eating it. They also released two albums, one self-titled and the other titled Bigger Than Jesus. The self-titled was seen at the flea market in the beginning of the episode catching Bart's eye and igniting the plot for the episode.
Members
[
edit
]
Former member
[
edit
]
Non-canon member
[
edit
]
Songs sung
[
edit
]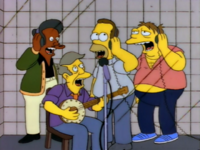 Medley songs sung
[
edit
]
Non-canon songs sung
[
edit
]
Discography
[
edit
]
Non-canon discography
[
edit
]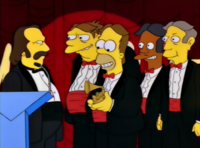 Behind the Laughter
[
edit
]
The Be Sharps are a parody of The Beatles. One of their albums is titled "Bigger Than Jesus", a reference to a quote by Beatles member John Lennon, who described their band as "bigger than Jesus".
Appearances
[
edit
]
References
[
edit
]