Late Show with David Letterman
Wikisimpsons - The Simpsons Wiki

Late Show with David Letterman was an American late-night talk show hosted by David Letterman, between 1982 and 2015.
Late Show Top Ten List
[
edit
]
Late Show Top Ten List
Special Information

Late Show Top Ten List is a regular segment of the television program Late Show with David Letterman where a celebrity reads out a top ten list. Homer Simpson has done three lists, one in 2008, one in 2010 and another in 2012.
Reasons why I, Homer Simpson, should be the next President
[
edit
]
Kick-ass inauguration party! Bring a six pack and you're in.
My vice president will be Mayor McCheese.
My middle name isn't Hussein... anymore.
I will be the secretary of donuts.
I will appoint a secretary of donuts.
I have enormous experience apologizing for failed decisions.
I will take full advantage of the free food that comes with the job.
Fox News is already on my side.
With an oval office, I can't bump into anything.
I'm smarter than the last guy.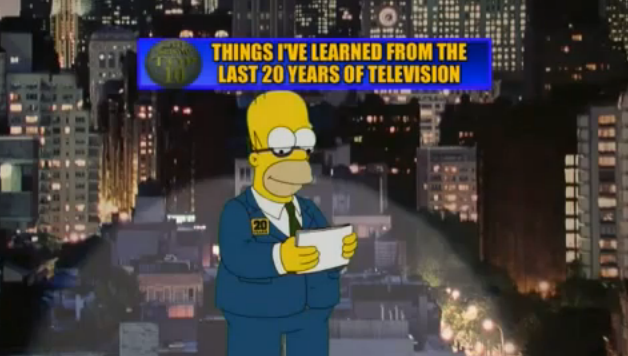 Things I've learned from the last 20 years of television
[
edit
]
Television is not a vast wasteland, it's a cesspool.
Ever notice all morning weathermen are as fat as a dump truck?
There is no good way to tell your spouse you want to go on Wife Swap.
No one on Earth is funnier than Howie Mandel.
Sitting close to the TV is a cheap alternative to a tanning salon.
Sadly, Cougar Town, is not a show about people getting attacked by giant cats.
Widescreen televisions were invented to accommodate Keith Olbermann's enormous head.
Thanks to iTunes, now you can get free TV shows for just 99 cents.
Do not buy sushi from the Home Shopping Network.
Better to be bald than have a hairpiece like Letterman.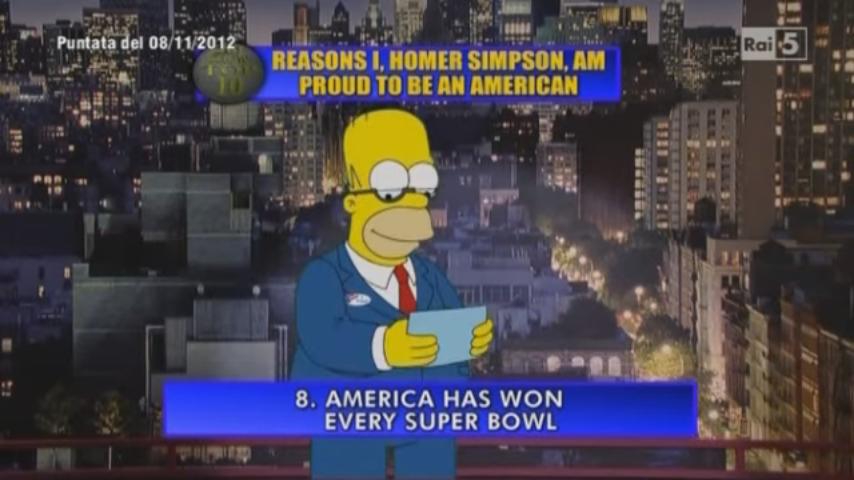 Reasons I, Homer Simpson, am proud to be an American
[
edit
]
Aired November 8, 2012.
We're the first country to leave trash on the Moon.
Even a dumb guy can have his own show, right Dave?
Not a nation of blowhard teabags like England.
We own Hawaii.
No other country has cars, I assume.
It's the home of French fries, German chocolate cake, and Korean barbeque.
Our flag doesn't have any weird stuff on it.
America has won every Super Bowl.
Warnings on cups tell you hot things are hot.
High obesity rates make me feel better about my body.
Outtakes
[
edit
]
On November 9th, FOX released some outtakes from the bit.
Our national religion is no longer voodoo.
Deep-fried Snickers.
No law requires me to wear pants.
Other references
[
edit
]
In the final episode of the Late Show with David Letterman, which aired May 20th, 2015, the Simpson family made an appearance. After watching Letterman break a window, Homer laughs at him. Marge mentions how Letterman has been on the air for 33 years and Bart and Lisa were kids and Maggie was still a baby, only for Marge to realize that is still the case.
Common cast members
[
edit
]
External links
[
edit
]
---