The Simpsons: Tapped Out Terwilligers content update
Wikisimpsons - The Simpsons Wiki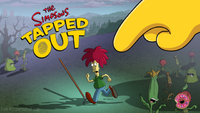 "Sideshow Bob is back, and he's brought the whole family! Is this criminally-inclined clan looking for a light opera company, or are they planning a new murder? We do know that they are definitely not looking for any rakes. Play today and find out! With new buildings, characters, decorations, and quest lines to unravel, this update may just be worth dying for!"
―Event description on the App Store

The Simpsons: Tapped Out Terwilligers content update was released April 14, 2015.
The event is split in 3 acts. Act 1 started April 14th, Act 2 started April 28th, Act 3 started May 12th.
Takedown started May 27th and was forced on users on May 28th when Level 53 was released.
The event is split into three acts, akin to how Treehouse of Horror XXV was split into three.
Act 1 and 2
[
edit
]
Takedown
[
edit
]
"Springfield's Terwilliger troubles are over, but what's next on the horizon? Something even more dramatic and murderous?
Or perhaps a villain with way less hair? Will the sentient computer that has taken over EA ever tell?
New characters, new buildings and new stories are coming soon!
Stay tuned!!"
―Update description on the App Store