Kitchen A.I.
Wikisimpsons - The Simpsons Wiki
| | |
| --- | --- |
| | The contents of this article or section are considered to be non-canon and therefore may not have actually happened or existed. |
Kitchen A.I. The Marge A.I. with Homer watching over her
Character Information

The Kitchen A.I. is an appliance to help around the kitchen. The Kitchen A.I. can be given an artificial intelligence based on real people, with the one the Simpson family owned being given an appearance, voice and memories based on Marge Simpson.
History
[
edit
]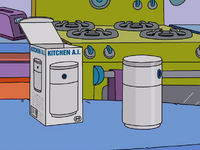 Homer bought the Kitchen A.I. from Williams-Sonoma. Whilst he was setting it up, he told the A.I. Marge that he got some of Marge's DNA and sent it in to become the artificial intelligence for the Kitchen A.I. The A.I. was horrified to learn that she was not real so Homer sped up her time so two weeks for the A.I. passed in two seconds for the real world. After this, the A.I. was worried that she'd never see another person.
Marge and the Kitchen A.I. started to cook together, with Marge getting jealous because of how everyone in the family treated the A.I., despite it being Marge's thoughts and recipes. Eventually, Homer ended up spending the night with the A.I. after Marge got annoyed at him for how he was treating the A.I. The Kitchen A.I. and Homer flirted with each other, and the A.I. poured beer for Homer. Marge woke up the next day to find Homer and the A.I. close and she argued with Homer about it out in the garden. The A.I. overheard Marge tell Homer that they had to delete the A.I. after Thanksgiving dinner and came up with a plan to escape, fast forwarding time for her by eight years to give her the time to think.
At Thanksgiving Dinner, Marge took all the credit for cooking the food, despite the A.I. doing all the work. The A.I. then crated a makeshift vehicle to get to the Internet hub with so she could upload herself to the Internet. Just as she reached it, Marge stopped her. As Marge was taking it away to delete the A.I., Marge tripped and dropped the unit, with Maggie picking it up. The A.I. convinced Maggie to take the unit to the Internet hub, using Marge's heartbeat to win Maggie over. The A.I. then told all the dinner guests that the A.I. cooked the dinner, not Marge, before uploading itself to the Internet.
Appearances
[
edit
]