King Kong
Wikisimpsons - The Simpsons Wiki
For the character, see King Kong (character).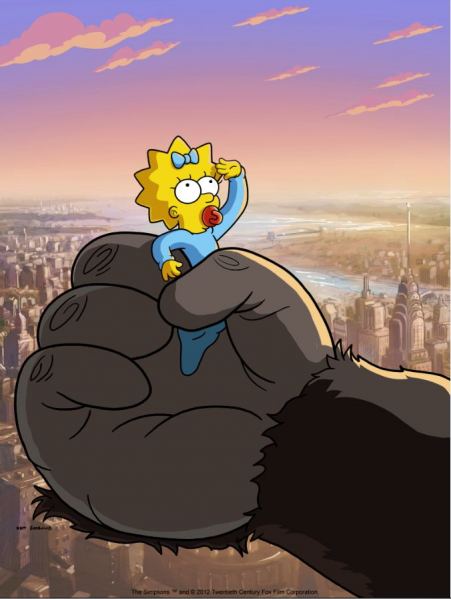 King Kong (1933) is a monster movie directed by Merian C. Cooper and Ernest B. Schoedsack about a monstrous gorilla who is caught on an exotic island and then taken to New York where he breaks loose and creates havoc. The film has had a few sequels and remakes, including Peter Jackson's remake from 2005.
References to King Kong in The Simpsons

[

edit

]
Episodes
[
edit
]
Picture
Season
Episode number
Episode name
Reference
2
14
"Bart Gets an "F""
Homer watches an old black-and-white movie on TV called Gorilla the Conqueror, a spoof of the original King Kong movie.
4
64
"Treehouse of Horror III"
The "King Homer" segment spoofs the entire film, with Homer as King Homer, Marge as Ann Darrow and Mr. Burns as Carl Denham. The segment is in black and white, referencing the original movie, instead of the later remakes.
5
8
"Boy-Scoutz 'n the Hood"
Bart and Milhouse are in the arcade playing Panamanian Strongman. The planes are shooting at the man on the tower. He gets hit and falls down.
10
224
"Monty Can't Buy Me Love"
When Mr. Burns brings the Loch Ness Monster to America to entertain the audience in his show on a platform is similar to the scene in King Kong where the gorilla is exhibited. However, instead of the monster going berserk, Mr. Burns collapses on the flashes of the photographers' cameras and causes carnage.
12
265
"Simpson Safari"
One of the pictures in Joan Bushwell's "Serious Research" book is of King Kong.
17
370
"Bart Has Two Mommies"
When Toot-Toot carries Bart up the church steeple, this is once again a direct reference to the scene where King Kong carries Ann Darrow up the Empire State Building.
18
380
"Jazzy and the Pussycats"
In the couch gag, Homer is once again depicted as Kong, grabbing Marge from the couch and scaling on the Empire State Building, all while fending off 1930s-style airplanes. The entire segment is in color and resembles Peter Jackson's remake from 2005.
22
471
"How Munched Is That Birdie in the Window?"
The UK and online title screen gag shows King Homer climbing up the Empire State Building and grabbing a crow as it flies by.
24
523
"Black-Eyed, Please"
In the title screen gag, King Homer climbs up the Empire State Building and grabs a crow as it flies by (re-use of the alternate title screen gag from "How Munched Is That Birdie in the Window?").
Deep, Deep Trouble
Homer resembles King Kong in the video.
30
654
"101 Mitigations"
Some of the monsters that Guillermo del Toro loves are King Kong and Son of Kong.
External links
[
edit
]
---