Cosmic Wars
Wikisimpsons - The Simpsons Wiki
Cosmic Wars
Movie Information

Cosmic Wars is a movie series created by Randall Curtis. A popular feature of the films is their crazy costumes. One of the films in the series is Cosmic Wars: The Gathering Shadow.
History
[
edit
]
Bart and Lisa think that the films have gotten a lot worse since their creation and go to see creator Randall Curtis. Comic Book Guy is a fan of the series and watches the films several times a day.[1]
Homer showed a screening of an illegally downloaded version of one of the Cosmic Wars films. The film begun by saying that the events of all previous Cosmic Wars never happened due to a rift in the space-time continuum.[2]
Non-canon
[
edit
]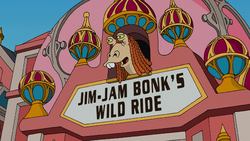 | | |
| --- | --- |
| | The contents of this article or section are considered to be non-canon and therefore may not have actually happened or existed. |
Dizznee was said to have bought out Cosmic Wars and in turn revamped Dizzneeland, with a number of Cosmic Wars-themed attractions and rides, such as Jabba the Tiki Hut and Jim-Jam Bonk's Wild Ride. A person in a Yoda suit was employed, claiming to have been bought for $4 billion.[3]
Behind the Laughter
[
edit
]
Cosmic Wars is an obvious parody of Star Wars and characters like Jar Jar Binks.
Appearances
[
edit
]
References
[
edit
]