Loki
Wikisimpsons - The Simpsons Wiki
For others named Loki, see Loki.
Loki
Character Information
Loki is a God of Asgard.
History
[
edit
]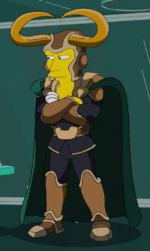 After Sven Golly escaped from his plastic prison by hypnotizing Chief Wiggum into believing he was Sven Golly and that Golly was Wiggum, Loki appeared in the cell, surprising Wiggum.[1]
Non-canon
[
edit
]
| | |
| --- | --- |
| | The contents of this article or section are considered to be non-canon and therefore may not have actually happened or existed. |
Loki was banished from Asgard by Odin for crimes he had committed against Asgard. When Loki asked where he was being banished to, he was horrified to find he was being sent to Springfield. Upon landing in Springfield, Loki befriended Bart due to them both having a distant father and perfect sibling. Bart then invited Loki to have dinner with the family.
During dinner, Homer asked Loki if he could duplicate his pork chops. When he did this, Homer started to worship Loki. Lisa then said that the world didn't need more pork chops, so Bart told Loki to get rid of her. Loki sent Lisa to Asgard, where she picked up Mjolnir and got the power of Thor. Lisa then returned to Springfield to defeat Loki, bringing along the Springfield Avengers to do so. However, Loki had changed him and Bart around so that Bart looked like Loki and Loki looked like Bart. Lisa then sent Bart away, leaving Loki to take over Bart's life.
That night, Homer went into Bart's bedroom to wish Loki a good night. Homer then asked Loki to turn Ned Flanders into pork chops. Loki went to sleep happy that he finally had a functional family.
In one credits scene, Ralph, as the Hulk told Loki that he wasn't nice, then bashed him around. In another credits scene, Loki was put on trial by the Time Variance Authority for crimes against the sacred timeline, among other crimes. Ravonna Renslayer then found Loki guilty.[2]
Loki was seen at Moe's Tavern for the Disney+ two year anniversary party. He had stolen Thor's credit card.[3]
Loki disguised himself as Bart when Lisa was going to join the Disney princesses. Loki then sent Lisa to the Disney Villain Land instead. Loki then looked at the camera and said that he was making another contractually obligated appearance. He then said that his powers were no match for the accountants at Disney.[4]
Behind the Laughter
[
edit
]
Loki is a character from Marvel Comics.
Foreign dubs
[
edit
]
| Language | Voice dubber |
| --- | --- |
| Español | José Gilberto Vilchis |
Appearances
[
edit
]
References
[
edit
]
External links
[
edit
]