Hurley
Wikisimpsons - The Simpsons Wiki
Hurley Orville (left) and Hurley (right)
Character Information
Hurley is a cast member on the country-western-themed variety show Ya Hoo!. His partner on the show is Orville.
Description
[
edit
]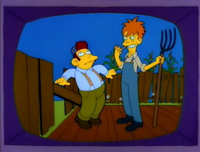 Orville's and Hurley's main role on Ya Hoo! is appearing in "fence gags", where they stand next to a fence and tell groaner-quality jokes. When the punch line is delivered, a plank from the fence swings out and hits the joke-teller on the behind, making it appear as though the fence is critiquing the joke by kicking the guilty party in the butt.
History
[
edit
]
In a fence gag during the episode of Ya Hoo! where Lurleen Lumpkin guest-starred, Orville began by saying that he had caught his wife in bed with his friend. Hurley asked, "You bitter?" and Orville replied "Yup. Bit him, too!" At that, a plank from the fence hit Orville on the behind. Pip Diddler, who was serving as the master of ceremonies for the show, laughed at the joke and then introduced the next act, a song by Lurleen.
Appearances
[
edit
]