Ya Hoo!
Wikisimpsons - The Simpsons Wiki
Ya Hoo!
TV Show Information
| | |
| --- | --- |
| Genre: | Variety |
| Country of origin: | USA |
| First appearance: | "Colonel Homer" |
"Hold on to your pitchforks, everybody. It's time again for Ya Hoo!'"
―Ya Hoo! Announcer

Ya Hoo! is a country-western-themed variety show which is produced and aired in Springfield. Lurleen Lumpkin appeared on the show as a guest star while Homer was managing her musical career.[1]
History
[
edit
]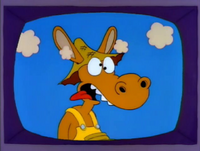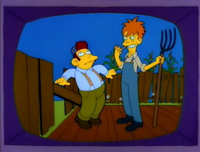 Ya Hoo!
has its own cast of characters in addition to featuring appearances by celebrity guests (usually country musicians). The show is also known for its distinctive donkey character who appears in the opening sequence, drinking from a jug of moonshine which makes the donkey's eyes spin, makes steam come out of its ears, and finally makes the donkey's head explode.
The show's format consists of the regular cast telling jokes, performing in comedy sketches, and playing music, interspersed with segments where the guest stars perform. One of the show's staple gags has one or more cast members standing next to a fence and telling a joke where the punchline is a pun. When the cast member delivers the pun (generally of "groaner" quality), a board from the fence tilts outward and hits the "offending" cast member on the behind, making it look like the fence is critiquing the joke by kicking the teller in the butt.
Most of the cast members' roles aren't specified in the scenes shown, but Pip Diddler appears to act as a master of ceremonies. The rest of the cast seem to mainly tell jokes (with Orville and Hurley specializing in fence gags) and appear in sketches, while Yodelin' Zeke and The Ya Hoo! Recovering Alcoholic Jug Band provide music.
The Ya Hoo! episode in which Lurleen appeared was a live broadcast, but it isn't known whether this was the show's regular practice.[1]
Kent Brockman once guest-starred on the show.[2]
Lurleen's Appearance
[
edit
]
When Lurleen Lumpkin appeared on Ya Hoo!, she began by singing "Bagged Me a Homer" immediately after the opening credits. While she was singing, an agent from Rebel Yell Records approached Homer and offered to buy Lurleen's contract. Homer turned the offer down. Later in the show, while the regular cast was performing, Lurleen lured Homer into her dressing room and made another attempt to seduce him. (The first attempt had been in her trailer, when she sang "Bunk with Me Tonight" for him.) Homer, however, realized that an affair with Lurleen would hurt his marriage, so he turned her down, telling her that he needed to leave before he lost his family. Homer then sought out the Rebel Yell agent, and said he was desperate to unload Lurleen's contract and would take any offer. The Rebel Yell agent offered $50, which Homer accepted. Homer then went back home to Marge.
For her finale song on the show, a tearful Lurleen sang "Stand By Your Manager", which she had just written on the spot. The song ended with the lyric "I hope that Marge knows just how lucky she is." Homer got home just in time to see Lurleen sing the song on TV. As Lurleen sang, Homer undressed and got into bed with Marge. When the song was over, Marge said she did know how lucky she was.[1]
Cast Members
[
edit
]
Ya Hoo! cast members (and guest star Lurleen), introduced "in alphabetical order", according to the announcer:[1]
Behind the Laughter
[
edit
]
Ya Hoo! is a parody of the real-life country-western-themed variety show Hee Haw, which aired from June 1969 to September 1992.

Hee Haw also had a donkey character in its opening sequence. However, its head did not explode like the Ya Hoo! donkey's.
The fence gag was a staple feature of Hee Haw, as well as Ya Hoo!.
Appearances
[
edit
]
References
[
edit
]