USS Sea Spanker
Wikisimpsons - The Simpsons Wiki
USS Sea Spanker
Vehicle Information
The USS Sea Spanker was an U.S. aircraft carrier that was the site of Party Posse's last performance.
History
[
edit
]
The Party Posse performed on the USS Sea Spanker in front of an audience of children. During the performance, a Navy admiral informed Lieutenant Smash that he was shutting down the boy band program because Mad was releasing an issue mocking the Party Posse. Upon hearing this, Smash took control of the Sea Spanker and sailed it towards New York City. The audience aboard the ship started jumping overboard to get away from it.
Upon arriving in New York City, Smash set a course for the Mad Magazine Headquarters with the intention of blowing it up. He had Nelson and Ralph load the missile launchers. 'N Sync then showed up and began to teach the Party Posse a song and dance routine to defuse the situation. However, Smash blew up Mad Magazine Headquarters before they had a chance to finish. Smash was then led off the ship in handcuffs.[1]
Non-canon
[
edit
]
| | |
| --- | --- |
| | The contents of this article or section are considered to be non-canon and therefore may not have actually happened or existed. |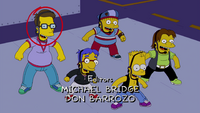 In a Chip Davis tribute, there is a photo where the late Chip appears singing with the Party Posse on the Sea Spanker at the Springfield Squidport.[2]
Appearances
[
edit
]
References
[
edit
]