Jesus Christ
Wikisimpsons - The Simpsons Wiki
This article is about the son of God. For the bum, see Jesus (The City of New York vs. Homer Simpson).
Jesus Christ is the son of God.
History
[
edit
]
When Ned Flanders said he was going to be the nicest man the world had ever seen, he looked at a photo of Jesus hanging on the wall and said "I said 'man', not 'man-God'."[3]
Jesus featured in the comic book Easy to Believe Tales which Comic Book Guy sold to Bart, claiming that Bart smudged it.[4]
God told Homer that his son went down to Earth once, and said, "I don't know what you people did to him, but he's never been the same." God then pointed to Jesus, who was sitting on a slightly spinning swing with a look of grief on his face. He seemed traumatized and depressed.[5]
After Mrs. Glick died, she was seen dancing in Heaven with Jesus.[6]
Ned Flanders showed a picture of Jesus to Homer and his parents to tell them that Jesus is watching them.[7]
When Bart tried to sleep he heard that Ned told his kids that Jesus loves all the children of the world. Rod and Todd then asked Ned if it's true that Jesus even loves Bart Simpson, and if so, doesn't Jesus have to draw the line somewhere?[8]
Whether created by gas fume intoxication or an actual spiritual message, a vision of Jesus appears to be plotting against the Flanders Family while they inhale toxic gas fumes put out by the RVs parked at the Simpsons residence next door.[9]
Jesus was in the mockumentary Jesus Christ Superstorm. Later, he showed up to Homer when he was learning cursive handwriting. He gave Homer a thumbs up.[10]
A statue of Jesus was seen in the Our Lady of Eternity church.[11]
Jesus appeared in a dream Bart had where he told Bart that he was trying very hard to forgive him. Jesus then turned a log into a sign that said "LOVE" and bat Bart up with it. Later, in the film Bart's Not Dead, Jesus told Bart to tell the people what he had witnessed and, if they doubted him, to viciously attack their character.[12]
Jesus was among the other forms that Loki had taken.[13]
Non-canon
[
edit
]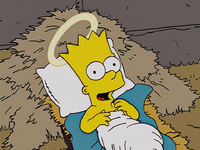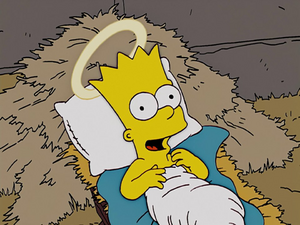 | | |
| --- | --- |
| | The contents of this article or section are considered to be non-canon and therefore may not have actually happened or existed. |
The Simpsons once took part in a re-telling of the Christmas story, with Bart cast as Baby Jesus.[1]
Andrew Shue played Jesus Christ in Bethlehem 90210.[14]
The Simpsons: Tapped Out
[
edit
]
Jesus Christ
[
edit
]
This section is transcluded from The Simpsons: Tapped Out characters/The B.S. League. To edit it, please edit the transcluded page.

Baby Jesus
[
edit
]
This section is transcluded from The Simpsons: Tapped Out characters/Clash of Creeds: Christmas Royale. To edit it, please edit the transcluded page.

Permanent Tasks
Task
Time
Reward
Requires
Quest with the task
Animated?
Go Skating
10m
26, 7
Simpsons' Skating Rink
Set a High Score at Whack a Real Mole
10m
26, 7
Whack A Real Mole
Overload on Sugar
30m
60, 15
The Candy Shoppe
Sneak an Ice Cream
30m
60, 15
Ice Cream Truck
Go on a Field Trip
60m
105, 26
Cypress Creek Elementary
Get a Haircut
60m
105, 26
Curl Up and Dye or
Hairy Shearers or
Jake's Unisex Hair Palace or
Brown House
Catch a Movie
2h
175, 40
Big T Theatre
Ride the Carousel
2h
175, 40
Boardwalk Carousel
Learn by Fun
4h
260, 70
Childrarium
Put Coins on the Rails
4h
260, 70
Springfield Union Station
Get Fit and Educated
4h
260, 70
Springfield Gymdandee
Split a Fancy Mac and Cheese
4h
260, 70
Le Petite Appétit
Play With Interactive Exhibits
4h
260, 70
KidZone Elite
Attend Parenting Seminars
4h
260, 70
Universal Panacea
Walk on Water
4h
260, 70
Get Caught in Webs
8h
420, 105
Big Bug House
Buy a House
8h
420, 105
Baby Jesus' House
Get Brainfreeze
8h
420, 105
Pinkbeardy Yogurt
Attend Wizarding School
8h
420, 105
Magic Academy
Turn Sippy Cups to Wine Glasses
12h
600, 150
The Gilded Truffle or
Luigi's or
The Pimento Grove or
Brown House
Attend a Toga Party
24h
1,000, 225
Springfield University or
The Snub Club or
Draggle Rock or
Stu's Disco or
Brown House
Behind the Laughter
[
edit
]
Jesus was the founder of Christianity and one of the most well-known people in the world. It is uncertain when he lived, but many historians believe that Jesus died in the year 33. Jesus is a symbol of the Christian religion and stands for values such as peace and loving one's neighbors.
Appearances
[
edit
]
References
[
edit
]
External links
[
edit
]