Doomsday app
Wikisimpsons - The Simpsons Wiki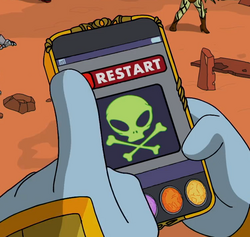 The Doomsday app is an app owned by Chinnos in Vindicators: Crystal War.
History
[
edit
]
The Vindicators fought against Chinnos as he planned on using the Doomsday app to destroy the world. After Chinnos' head was blown off by Airshot, he used his phone to restore his head then used the Doomsday app to crystallize everyone, before they all shattered.
Behind the Laughter
[
edit
]
The Doomsday app is a parody of the Infinity Gauntlet and Infinity Gems from the Marvel Cinematic Universe.
Appearances
[
edit
]
---