Vindicators: Crystal War 2: Resurgence
Wikisimpsons - The Simpsons Wiki
Vindicators: Crystal War 2: Resurgence
Movie Information

Vindicators: Crystal War 2: Resurgence is a superhero and Sci-Fi film about the Vindicators by Marble Studios. It stars Glen Tangier as Airshot. It is a sequel to Vindicators: Crystal War and aired a year after it.
Part of the movie sees Airshot get pinned down by one of Chinnos' army. Airshot then blows a hole through the enemy to avoid being killed.
History
[
edit
]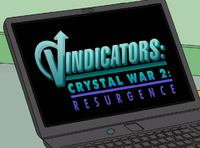 When Glen Tangier went to see Milhouse in the hospital, he instead found Bart, who he mistook for Milhouse. Tangier revealed to Bart that he had a copy of Vindicators: Crystal War 2: Resurgence which he showed to the really sick kids who wouldn't make it to the airing of the film. When Tangier fell asleep, Bart watched the film. Since Bart had watched it a month in advance, he thought he could use his "spoiler powers" to get stuff. He went to The Android's Dungeon where he tried to get Comic Book Guy to give him a copy of Dr. 3am in return for spoilers. When Comic Book Guy refused, because he wanted to watch it for himself, Bart then blackmailed him into giving him stuff from the shop in return for not revealing spoilers.
Bart began blackmailing everyone in Springfield into doing his bidding. However, Homer wasn't bothered about it as he didn't care about the film. Homer and Bart then teamed up to get Homer free beer from Moe's Tavern, using the spoilers to blackmail Moe.
Eventually, Marble Studios stepped in and two movie executives put together a virtual reality simulation for Bart to get him to stop blackmailing everyone with spoilers. They did this because they were afraid that the global economy would collapse if enough people didn't watch the film. The simulation worked and Bart decided to change his ways.
Eventually, the film aired. After its first showing, everyone who watched it then got on their phones and spoiled it for everyone else.
Behind the Laughter
[
edit
]
Vindicators: Crystal War 2: Resurgence is a parody of Avengers: Endgame.
Appearances
[
edit
]
---