Lon's Laundry
Wikisimpsons - The Simpsons Wiki
Lon's Laundry
Location Information
Lon's Laundry is a laundromat in Springfield. It is located in the downtown area.
Description
[
edit
]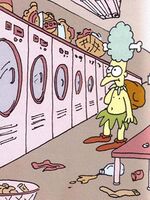 Lon's Laundry is located in what appears to be a somewhat run-down area of downtown. The laundromat is a bit cluttered inside, with a few clothing items and cleaning products (some spilled) scattered on the floor. However, judging from the number of laundry baskets sitting on top of the washing machines, the laundromat seems to have a pretty regular volume of business—notwithstanding the fact that when
Sideshow Mel
did a load of laundry there, he seemed to have the place to himself.
The laundromat has at least one row of front-loading washing machines and at least one full row (plus a partial row) of dryers. In spite of the general clutter, everything seems to be in good working order. There are both front and rear doors available to customers.
The laundromat has a handmade sign out front which reads "No change in meter", implying that it doesn't give change for parking (or may only do so for paying customers). There is also an aggressive dog which hangs out by the front door.[1]
History
[
edit
]
Sideshow Mel went to Lon's Laundry to do a load of washing. When he got to the laundromat, he was confronted by the dog at the front door.[1] Nonetheless, Mel went in and did his laundry. When he was done, he noticed that the dog was still outside the front door, so he left by the back door to avoid the dog.[2]
Appearances
[
edit
]
References
[
edit
]