Pork chops
Wikisimpsons - The Simpsons Wiki
Pork chops
Food/Drink Information

Pork chops is Homer's second favorite dish, probably after donuts. He especially likes pork chops with apple sauce.
History
[
edit
]
Friday is pork chop night in the Simpsons' house.[1]
Despite the fact that Marge knows of fewer than eight spices she is regarded as a very good cook and is specially renowned for her pork chops. Homer has only once criticized Marge's pork chops.[2]
Homer once pledged to go on a diet and lose some weight, only to realize (to his chagrin) that he had agreed to start the diet on pork chop night.[3]
Jay Sherman was also a fan of Marge's pork chops. When he was a guest at the Simpson home for dinner and Marge served pork chops, he and Homer nearly came to blows over the last chop, until Marge admonished Homer that the guest should get the last one.[4]
Appearances
[
edit
]
This article or section is incomplete.


Please improve the article, or discuss the issue on the talk page.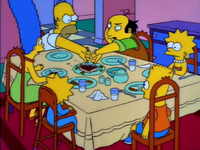 References
[
edit
]